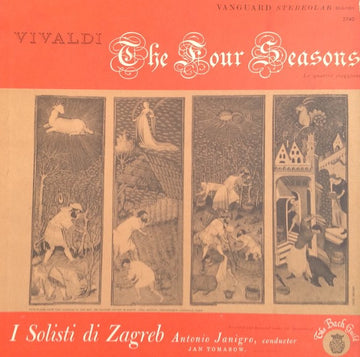 This superb Vanguard recording of one of our favorite performances of the work boasts outstanding Double Plus (A++) sound throughout

This pressing has all the qualities that make analog so involving and pleasurable — the warmth, the richness, the naturalness, and above all the realism

The sound here has the power to transport you completely, with solid imaging and a real sense of space, qualities that allow us to forget we are in our listening rooms and not in the concert hall
Folks, we have some good news for those of you who have been waiting for one of the best-sounding, most beautifully performed Four Seasons ever recorded. Let's just say that this small ensemble recording is as close to perfect as any we have ever heard. The harpsichord is especially good on the Vanguard recording, better than the RCA I would venture. Its placement in the soundfield is subtly natural, precisely the way one would expect to hear it in performance.
All four movements are performed with great spirit, and other than a sour note right at the start — listen for it! — the playing is of the highest quality. I prefer the performance — slightly — to the famous RCA. (more…)