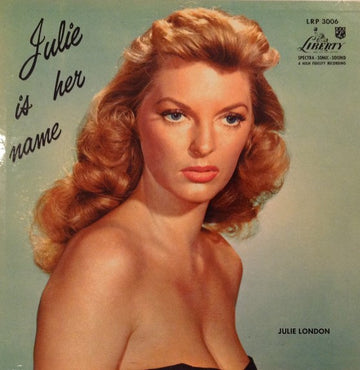 Julie's debut finally arrives on the site with Shootout Winning Triple Plus (A+++) sound from start to finish

The vocal naturalness and immediacy of this early Liberty pressing will put Julie in the room with you – more than anything else, it lets her performance come to life

The naturalness of the presentation puts this album right at the top of best-sounding female vocal albums of all time

4 stars: "Her debut is her best, a set of fairly basic interpretations of standards in which she is accompanied tastefully by guitarist Barney Kessel and bassist Ray Leatherwood."
Listen to how rich the bottom end is on Barney Kessel's guitar. The Tubey Magic here is off the charts. Some copies can be dry, but that is clearly not a problem on this one.
To take nothing away from her performance, which got better with every copy we played. Julie's rendition of Cry Me a River may be definitive.
If only Ella Fitzgerald on Clap Hands got this kind of sound! As good as the best copies of that album are, this record takes the concept of intimate female vocals to an entirely new level. (more…)