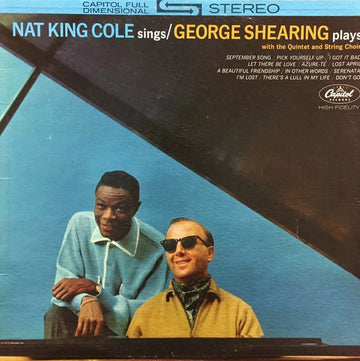 This wonderful collaboration finally returns with STUNNING Shootout Winning Triple Plus (A+++) sound on both sides

Two masters come together here to create a compilation of timeless arrangements still appreciated by both music lovers and audiophiles to this day

It's tough to find top quality pressings of Nat King Cole's recordings in audiophile playing condition – this All Tube Recording from the early '60s is your chance to hear just how rich and real he could sound in his prime

4 stars: "Cole is in prime form on such songs as 'September Song,' 'Pick Yourself Up,' and 'Serenata.' Shearing's accompaniment is tasteful and lightly swinging, and the string arrangements help to accentuate the romantic moods."
The better pressings of this unique collaboration between Nat King Cole and George Shearing put Cole's voice right up front with lovely breath and natural texture. On the better copies such as this one, the Nat's vocals are full-bodied, the piano has real weight, and the soundfield is open and transparent. If you want a great-sounding male vocal LP in your collection, this one will do the trick nicely.
The reissue pressings rarely sounded right to us. In addition, the mono copies were uniformly awful — small, congested and gritty. Our Hot Stamper pressings — even the lowest-graded copies we offer –are sure to give you fuller vocals, more transparency, more weight to the piano and, of course, the tubey warmth of vintage analog. (more…)