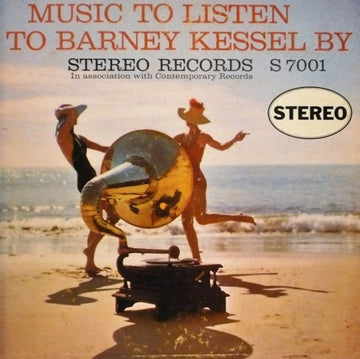 Music To Listen To Barney Kessel By finally returns to the site with KILLER Shootout Winning Triple Plus (A+++) Contemporary Stereo sound on both sides

Their stuff just doesn't get any better than this. Tubey Magic, richness, sweetness, dead-on timbres from top to bottom — this is a textbook example of Contemporary sound at its best

For those of you who appreciate what Roy DuNann (and Howard Holzer on other sessions) were able to achieve in the '50s at Contemporary Records, this LP is a Must-Own

Unless you already have it, which is doubtful considering how hard it is to find a copy in clean condition

Barney Kessel and his five reed players take these standards and make magic with them — for fun, relaxing jazz it's hard not to love this one
This vintage Black Label Contemporary Stereo LP from has DEMO DISC QUALITY SOUND. No other copy we played was in a class with this bad boy — it does it ALL.
How can you beat a Roy DuNann recording of five reeds, piano, guitar and a rhythm section that includes Shelly Manne and Red Mitchell? The timbre of the instruments is so spot-on it makes all the hard work and money you've put into your stereo more than pay off.
The Demo Disc sound on this copy is really something to hear – all tube, live-to-two-track direct from the Contemporary studio. It's pretty much everything you want in a recording from this era. I'd love to keep it but when would I have time to play it? I can assure you I will sleep very well knowing that it's going to a good home. (more…)