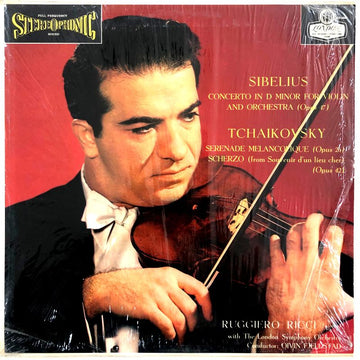 Shootout Winning Triple Plus (A+++) grades on both sides make this a Sibelius Violin Concerto with top sonics and a performance to match – fairly quiet vinyl too

It's some of the best sound we have ever heard for the work, right up there with our longtime favorite, the Heifetz on Living Stereo (LSC 2435)

One of the truly great 1958 All Tube recordings from Kingsway Hall, captured faithfully in all its beauty by Alan Reeve & Gordon Parry on this very disc

"In the easier and looser concerto forms invented by Mendelssohn and Schumann I have not met a more original, a more masterly, and a more exhilarating work than the Sibelius violin concerto."
The best Shaded Dog pressings of the Heifetz performance on RCA (LSC 2435) are the equal of this London. RCA presents the violin more immediately in the soundfield. Decca's engineers integrated the violinist into the orchestra, which of course is the way it would be heard in the concert hall. To our ears, both approaches work exceptionally well — when you have at your disposal exceptional pressings of each. We had copies of both that were Hard to Fault, which made for a very enjoyable shootout.
Note that it has been close to ten years since our last big shootout for the work. That's how long it takes to find enough clean London, Decca and RCA pressings for recordings such as these. Noisy, second-rate copies are everywhere. Top quality early pressings in clean condition come our way less than once a year. There are literally thousands of clean, vintage classical pressing sitting in our stockroom, waiting for a few more copies to come our way so that we can finally do a shootout.
With engineering in the legendary Kingsway Hall, there is a richness to the sound of the strings that is exceptional, yet clarity and transparency are not sacrificed in the least.
It's practically impossible to hear that kind of string sound on any recording made in the last thirty years (and this of course includes practically everything pressed on Heavy Vinyl). It may be a lost art but as long as we have these wonderful vintage pressings to play it's an art that is not being lost on us. (more…)