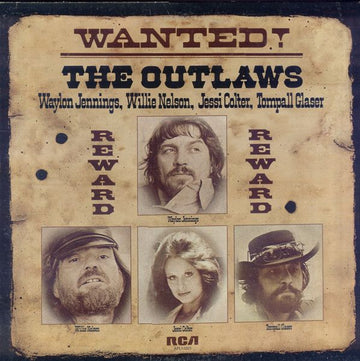 An outstanding pressing of this superb compilation album with solid Double Plus (A++) sound or BETTER from start to finish

When we first dropped the needle on a random copy of the album we were SHOCKED at how good it sounded – this recording is a real sleeper

The talents of Waylon Jennings, Willie Nelson, Jessi Colter, and Tompall Glaser come together under a unifying theme that "gave the album a cohesion and freshness it might have otherwise lacked"

4 1/2 stars: "… [the album] marked the industry's recognition of the changing times, and as the center point of a campaign to publicize Nashville's new 'progressive' breed, it worked like a charm. It quickly became the first country album to sell more than a million copies, and it boosted the careers of all involved."
Our first Waylon Jennings album! Most of his albums from the '60s are hard and honky in the extreme, but this one from the '70s is a whole nother animal. It's rich, with exceptionally natural reproduction of these varied artists' voices. As we noted above, we were very, very impressed.
It has the kind of Tubey Magical Midrange that modern pressings barely BEGIN to reproduce. Folks, that sound is gone and it sure isn't showing any sign of coming back. (more…)