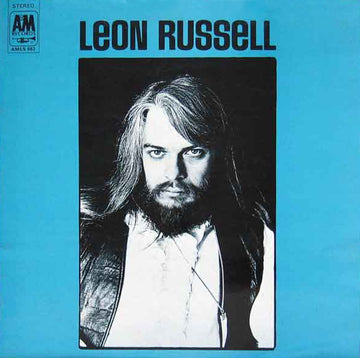 This outstanding pressing boasts solid Double Plus (A++) sound from start to finish

His first and best album, engineered by our man Glyn Johns, but it only sounds as brilliant as it should on the right UK original pressings – the domestic LPs are dead on arrival

Delta Lady, A Song for You and Roll Away the Stone are all here, which makes this a true Must Own for fans of the Classic Era

4 1/2 stars: "Leon Russell never quite hit all the right notes the way he did on his eponymous debut. He never again seemed as convincing in his grasp of Americana music and themes, never again seemed as individual, and never again did his limited, slurred bluesy voice seem as ingratiating."
*NOTE: On side one, Track 1, A Song For You, plays M– to EX++.
Forget the dubby domestic pressings and whatever dead-as-a-doornail Heavy Vinyl record they're making these days – if you want to hear the Tubey Magic, size and energy of Leon's wonderful debut album, a vintage UK pressing like this one is the only way to go.
The best copies of Russell's debut album have excellent sound, as expected from a record engineered by Glyn Johns in 1970. Surprisingly, a number of UK copies suffered from somewhat dry sound, especially in the vocals. Our best copies are rich and Tubey Magical, which is what these songs need to have in order to sound their best. (more…)