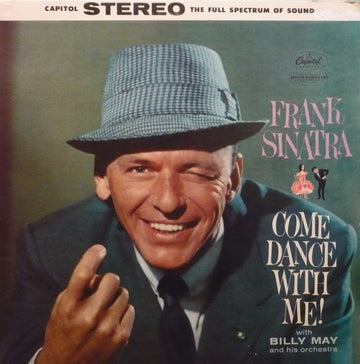 Come Dance With Me! finally returns to the site with Shootout Winning Triple Plus (A+++) sound from start to finish on this early Capitol stereo LP

This pressing did it all — and on both sides — with incredible energy and the kind of immediacy that puts Frank Sinatra front and center right in your very own listening room

This is one of the more fun Sinatra albums we've had the pleasure of playing recently, and this is a copy that delivers BIG TIME

5 stars: "Working with Billy May again, Frank Sinatra recorded his hardest swing album ever with Come Dance with Me! . . . an intoxicating rush of invigorating dance songs."
Get ready to swing with the Chairman of the Board on this superb pressing of his classic album from 1959! Billy May and his orchestra back Frank with wonderful arrangements here, and a copy like this lets you appreciate everyone's hard work. The brass blasts on side two are to die for!
It's tough to find good-sounding copies of almost any Sinatra album, finding amazing copies of his most classic albums like this one with reasonably quiet surfaces is a ridiculously tough task. Even for us, the guys who do nothing but search for and audition records all day every day! So we were thrilled to play a copy like this one that did just what we wanted from music like this.
On the best pressings, the brass blasts are OUT OF THIS WORLD. If you never thought you'd hear a Sinatra record sound as powerful as the man himself came across — this is the pressing that you've been looking for. Most copies were either smeary or edgy, but this one was wonderfully smooth with impressive clarity.
Sinatra fans, don't miss out — we don't find records like this too often. (more…)