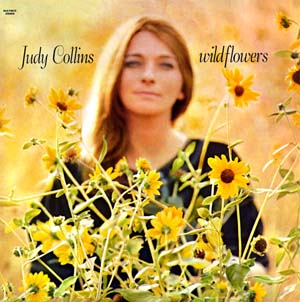 Judy Collins superb 1967 release finally returns to the site after many years with STUNNING Shootout Winning Triple Plus (A+++) sound on both sides of this Gold Label original stereo pressing

The sound is rich, sweet and open, with Judy's voice especially clear and breathy – if you're not quite sure what Tubey Magic is all about, the sound of this pressing will show you just how Tubey Magical the real deal can be

There is plenty of wonderful music on this album, including two of best songs Judy ever recorded (in our opinion), Michael from Mountains and Since You Asked, as well as two of Leonard Cohen's best-penned tunes

"Soothing. Unique. Natural. These are clear adjectives used best when describing the style and grace of Judy Collins and her album Wildflowers. Her blend of folk and meditative music paints a tapestry of soft, nurturing colors that transcends the mind of the listener and seeks one's soul."
The first three songs on side one alone are worth the price of the album, three of the best Judy ever recorded. Joni Mitchell's Michael from Mountains is one of the best songs on her debut album; Judy sings it with comparable taste and skill. Since You Asked is Judy's own composition, her first to be recorded in fact. In this writer's opinion, it's the best song she ever wrote, "as good as it gets" as we like to say. And of course, Leonard Cohen's Sisters of Mercy is one of his many masterpieces and brilliant in all respects as performed here.
Grammy Award for Best Folk Performance that year by the way. (more…)