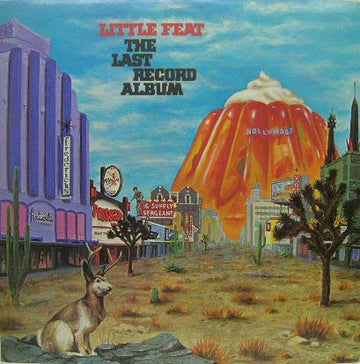 Outstanding Double Plus (A++) grades or better on both sides – this is the best studio album the band ever recorded – exceptionally quiet vinyl too

The drums are rich and fat and deliciously ANALOG, a perfect match for the sound of the album as a whole

Consistently strong songwriting with dramatically more emotionally powerful tracks than their other releases

Features great songs like All That You Dream, Long Distance Love, Mercenary Territory and more
The Last Record Album is one of our favorite Little Feat albums. The recording, by the estimable George Massenburg, has many outstanding qualities. Among them is amazing bass; the bass goes REALLY deep in places (Long Distance Love) and it's big, punchy, rich and well up in the mix throughout the album.
What to Listen For
The problem has always been an overly smooth top end, combined with congestion, smear, and a serious lack of presence. The good news is that if you clean enough copies with the advanced cleaning techniques we've developed, and you make enough improvements to your stereo, room, etc., with the right copy you can actually get this album to sound clear AND rich. (more…)