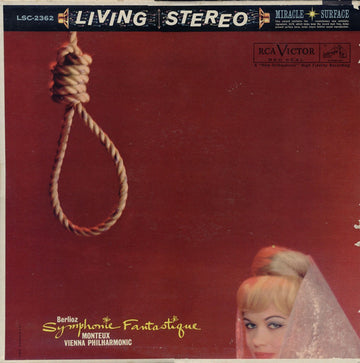 This stunning classical masterpiece finally returns with Shootout Winning Triple Plus (A+++) sound from first note to last

A superb pressing, with gorgeous Golden Age Tubey Magical strings and lovely hall acoustics

One of our favorite performances of Berlioz's masterwork

The hall is huge, the brass solid and powerful, the top and bottom extends properly, the stage is wide and clear — what more can you ask for?
One of our favorite performances of Berlioz's masterwork returns to the site in spectacular fashion, with stunning 1960 Living Stereo sound on both sides.
This is a piece that's difficult to squeeze onto two sides of a single LP, clocking in as it does at around 45 minutes, which means that the mastering engineer has three options when cutting the record: compress the dynamics, lower the level, or filter out the deep bass.
The RCA mastering engineer for this pressing managed to hold on to the powerful dynamics captured by the Decca (as far as I know) recording team, seemingly without doing harm to dynamics, levels or deep bass. How, I have no idea.
Maybe it's the gorgeous Living Stereo strings and hall acoustics that let us forget about the possibility of compromises in other areas.
(Of course this was always the downfall of the Classic Records RCA remasterings. Their records had bass and dynamics, no one could deny it, but the strings were usually shrill  and smeary, and the hall practically non-existent. We found out just years ago that there was a new series of recuts coming from Acoustic Sounds. Based on their dismal track record I will be very surprised if they are much better than mediocre.) (more…)