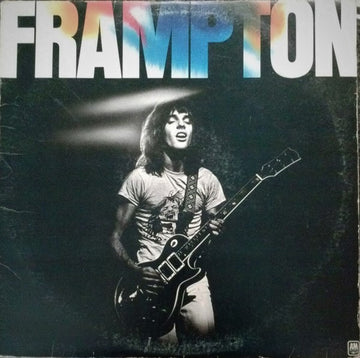 An outstanding original A&M pressing of Frampton with solid Double Plus (A++) sound from start to finish

Far too many copies have a problem with dry, edgy, lean vocals, the kind of vocal sound you simply cannot find anywhere on UK pressings of Wind of Change, but the best pressings of Frampton are richer and tubier without crossing into being dark and murky

This has long been a personal favorite of mine, it's a an album I've played hundreds of times and never tired of

4 stars: "Frampton exited Humble Pie because that group fell into a loud, hard rock groove that overwhelmed the technical skills he'd spent years working on as a guitarist; he poured a lot of that into this highly melodic mid-tempo rock album."
A bit of background: Both his first solo album and this, his fourth, were recorded by the well-known engineer Chris Kimsey, who famously worked with the Stones and others too numerous to mention. To say that the sound of his albums varies considerably would be the understatement of the year. The first album (British only, fyi) is rich, sweet, and Tubey Magical as practically anything you've ever heard (as well as overly tube compressed, its biggest fault).
Sonically this album tends to be none of those things. However, if you play enough copies you are sure to run into at least some that sound right.
I unashamedly confess to being a huge Frampton fan to this very day. His first album, Wind of Change, has been a Desert Island Disc for me ever since I picked up my first copy while still in high school in 1972. I'm a Big Production Rock Guy, as you may have guessed from looking at the records we rave about the most, and Frampton's first album is a classic of Big Production Rock, in the style of Abbey Road, Dark Side of the Moon, Songs for Beginners and fifty others I could name. Make that a hundred others. Or two hundred.
Which also explains why I've had very large dynamic speakers since about 1975, when I was first able to scrape together enough money to buy a pair of the well-regarded RTR 280-DR. (My mother had to co-sign the loan I took out shortly thereafter to buy an Audio Research SP3A-1 preamp and D-75 amp to power them, if that tells you anything. And ARC was reasonably priced back then; neither piece was even a grand!)
This fourth Frampton album may not boast the sound of his first, but it can have reasonably good sound, and musically it's his strongest album after his debut, providing as it does much of the material for the blockbuster double live album that was to follow in less than a year, the one that broke the all time sales record set by Tapestry (and would be be bested itself soon enough by a little number known as the soundtrack to Saturday Night Fever). (more…)