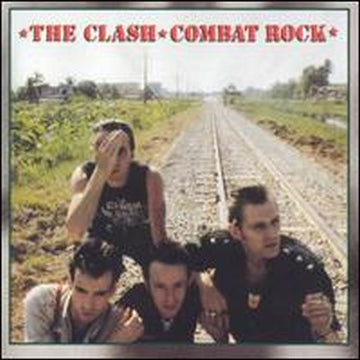 An insanely good sounding copy with Triple Plus (A+++) sound from start to finish – exceptionally quiet vinyl too

Both the two big jammers are on this killer side one: Should I Stay or Should I Go and Rock the Casbah – you've never heard them sound like this!

Glyn Johns produced and mixed Combat Rock, so its sonic credentials are certainly in order

If you're a fan of meaty bass, grungy guitars and punchy drums, this is the copy for you

…its finest moments — "Should I Stay or Should I Go," "Rock the Casbah," "Straight to Hell" — illustrate why the Clash were able to reach a larger audience than ever before with the record."
NOTE: There is a mark on track two that looks serious but in actuality can only be heard a few times very lightly during the second half of the track. For the most part it is completely obscured by the music.
If you can tolerate this one mark you are in for some amazing Clash music and sound. If for any reason you are not happy with the sound or condition of the album we are of course happy to take it back for a full refund, including the domestic return postage.
Full and natural, energetic and high-res, no other copy came close. A stunning copy, absolutely as good as it gets for this punk classic.
Most of the other copies we played failed in one of two ways: if they weren't too bright, they were dead as a doornail. But this copy knocked them all out with correct tonal balance and tons of energy. (more…)