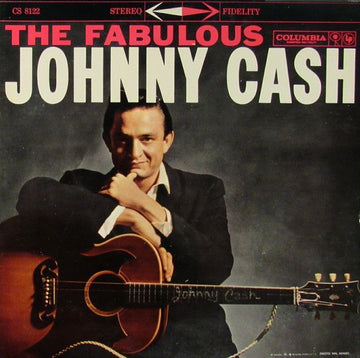 An outstanding vintage stereo pressing with solid Double Plus (A++) sound throughout for Cash's first Columbia album – exceptionally quiet vinyl too

Both sides are Tubey Magical yet clear, with plenty of performance energy and a lovely musical quality that's noticeably missing from many of the copies we've played over the years (and no doubt the Heavy Vinyl pressing)

For a country album from 1958, "Fabulous" is very well recorded, with consistently engaging songs sung from the heart

4 1/2 stars: "What makes it so entertaining are the songs themselves. From 'Don't Take Your Guns to Town' and 'Frankie's Man, Johnny' to 'Pickin' Time' and 'The Troubadour,' the album is filled with first-rate songs."
We had a wealth of different pressings to play — original 6 Eye stereos, one mono (with a crude and unappealing side one but excellent side two), some later Columbias, and even some of the Special Edition brown label editions which appear to be from the '70s.
This was one of the better copies we heard. It has the kind of Tubey Magical Midrange that modern pressings cannot BEGIN to reproduce. Folks, that sound is gone and it sure isn't showing any sign of coming back.
Having done this for so long, we understand and appreciate that rich, full, solid, Tubey Magical sound is key to the presentation of this primarily vocal music. We rate these qualities higher than others we might be listening for (e.g., bass definition, soundstage, depth, etc.).
The music is not so much about the details in the recording, but rather in trying to recreate a solid, palpable, real Johnny Cash singing live in your listening room. The best copies have an uncanny way of doing just that.
If you exclusively play modern repressings of older recordings (this one is now 61 years old), I can say without fear of contradiction that you have never heard this kind of sound on vinyl. Old records have it — not often, and certainly not always — but less than one out of 100 new records do, if our experience with the hundreds we've played can serve as a guide. (more…)