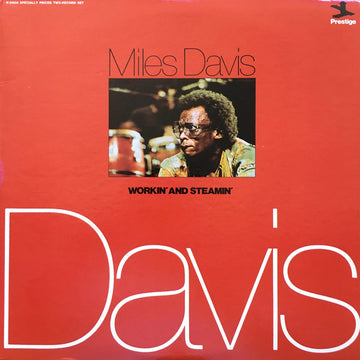 An outstanding Double Album with solid Double Plus (A++) sound or close to it on all four sides

The best sounding tracks here can hold their own with ANY Miles Davis vinyl we've ever heard, and that's a whole lot of Mile Davis albums

5 Stars: "This two-LP set combines a pair of classic albums by the Miles Davis Quintet of 1956, the group that also featured John Coltrane, Red Garland, Paul Chambers and Philly Joe Jones. …the music has plenty of variety and does not sound rushed. Davis's beautiful muted statements made these two of his most popular albums."
*NOTE: On sides one and two, a bubble makes 6 very soft thumps on Track 1, It Never Entered My Mind (side one), and Trane's Blues (side two). On side four, a mark makes 15 light stitches at the beginning of Track 3, When I Fall In Love.
You might be surprised that a reissue can beat the originals, but one play of this pressing should be enough to remove all doubt.
To the Jazz Fans of the World, we here present one of the BEST sounding jazz recordings we have ever had the PRIVILEGE to place on a turntable. I cannot ever recall hearing a better sounding Rudy Van Gelder recording, and I have a theory as to why this tape is as good as it is: it's MONO. It also sounds like it's recorded completely LIVE in the studio, direct to one track you might say. As good a recording as Kind of Blue is, I think the best parts of this album are more immediate and more real than anything on KOB. (more…)