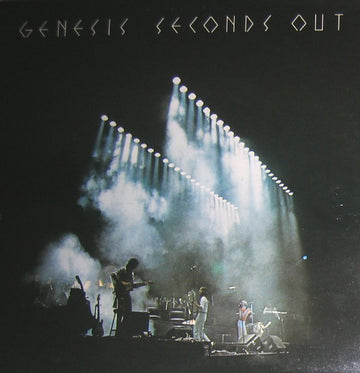 You'll find superb Nearly Triple Plus (A++ to A+++) grades on three sides and outstanding Double Plus (A++) grades on the fourth, giving you very impressive live Genesis sound

This is an excellent set of songs and a surprisingly good recording

After suffering through so much bad Genesis sound over the years — their pressings are all over the map — it was a real treat to hear the better copies of this one let these classic songs really come to life

"Indeed, part of the beauty of this album is the sheer flexibility of the band during this period — in addition to superb vocals by Collins throughout, the drumming by Chester Thompson is at least a match for Collins' best playing."
This live album from 1977 has some of the best Genesis sound we've heard. Their studio recordings are often a bit flat and dull, so it's really a treat to hear those songs with this kind of big, open, dynamic sound! Phil Collins handles the lead vocals here, but he does a great job even on the Peter Gabriel material.
This vintage British Charisma pressing has the kind of Tubey Magical Midrange that modern records can barely BEGIN to reproduce. Folks, that sound is gone and it sure isn't showing signs of coming back. If you love hearing INTO a recording, actually being able to "see" the performers, and feeling as if you are sitting in the studio with the band, this is the record for you. It's what vintage all analog recordings are known for — this sound. (more…)