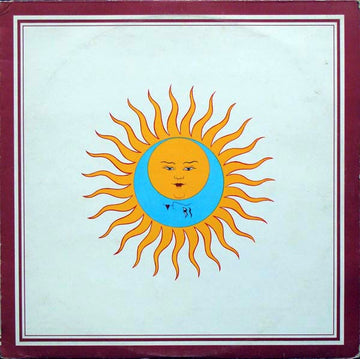 The band's superb 1973 release makes its modern Hot Stamper debut here with KILLER Shootout Winning Triple Plus (A+++) sound or close to it from start to finish

Bass and body are key to the best pressings, along with Prog Rock energy, and here you will find plenty of all three

A powerful, dynamic recording, yet the Island Tubey Magical Richness and Smoothness are always there to keep the proceedings from getting out of hand.

4 1/2 stars: "… this lineup quickly established itself as a powerful performing unit, working in a more purely experimental, less jazz-oriented vein than its immediate predecessor."
NOTE: This copy has a label misprint – Side 1 has a Roxy Music Avalon label even though it's a King Crimson Record, while Side 2 has the correct label.
*CONDITION NOTES:
On side one, the first half-inch of Track 1, Larks' Tongues In Aspic, Part One, is moderately ticky.
Sometimes the copy with the best sound is not the copy with the quietest vinyl. The best sounding copy is always going to win the shootout, the condition of its vinyl notwithstanding. If you can tolerate the problems on this pressing you are in for some amazing King Crimson music and sound. If for any reason you are not happy with the sound or condition of the album we are of course happy to take it back for a full refund, including the domestic return postage.
---
Like any KC record, this album alternates its soft parts and its heavy parts. The soft parts sound oh so sweet and delicate, each intricacy revealed to perfection by the out-of-this-world recording quality, while the heavy parts sound big and bold, augmented by Fripp's meaty, fuzzed-out guitar and Bill Bruford's savage percussion.
What's uncanny about this pressing is how the softness and heaviness play off each other, transitioning into one another, WITHOUT LOSING A THING. With most prog rock records, once the bombast starts kicking in, all the intricacies of the midrange and top end get washed out. But when this pressing's rockin', the subtle contribution of the mellotron in the background can still clearly be recognized, floating above the clouds, tying everything together, with all of Bill Bruford's intricate percussion effects along for the ride. (more…)