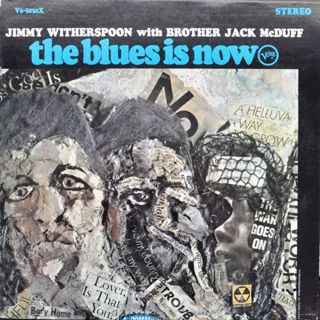 Witherspoon's wonderful 1967 release makes its Hot Stamper debut with Shootout Winning Triple Plus (A+++) sound from first note to last

Spacious and transparent, this copy has the three-dimensional soundstaging and natural vocal reproduction that makes these kinds of records such a joy to play (and in the process a record this good makes a mockery of the veiled, lifeless, ambience-free sound of the modern Heavy Vinyl reissue)

4 stars: "The Blues Is Now is arguably the finest of these [late '60s Verve] recordings, and Witherspoon's voice is in top form and hugely expressive. A late-night blues classic, this is Witherspoon at his most relaxed and assured and is a joy to listen to."
This vintage Verve pressing has the kind of Tubey Magical Midrange that modern records rarely even BEGIN to reproduce. Folks, that sound is gone and it sure isn't showing signs of coming back. If you love hearing INTO a recording, actually being able to "see" the performers, and feeling as if you are sitting in the studio with the band, this is the record for you. It's what vintage all analog recordings are known for — this sound.
If you exclusively play modern repressings of vintage recordings, I can say without fear of contradiction that you have never heard this kind of sound on vinyl. Old records have it — not often, and certainly not always — but maybe one out of a hundred new records do, and those are some pretty long odds.
What the best sides of The Blues Is Now have to offer is not hard to hear:
Transparency and resolution, critical to hearing into the three-dimensional space of the studio

The biggest, most immediate staging in the largest acoustic space

The most Tubey Magic, without which you have almost nothing. CDs give you clean and clear. Only the best vintage vinyl pressings offer the kind of Tubey Magic that was on the tapes in 1967

Tight, note-like, rich, full-bodied bass, with the correct amount of weight down low

Natural tonality in the midrange — with all the instruments having the correct timbre
No doubt there's more but we hope that should do for now. Playing the record is the only way to hear all of the qualities we discuss above, and playing the best pressings against a pile of other copies under rigorously controlled conditions is the only way to find a pressing that sounds as good as this one does.
Engineering by Val Valentin
Val Valentin's list of credits runs for days. Some high points are of course Ella and Louis, and Getz/Gilberto, two records that belong in any right-thinking audiophile's collection.
We played a copy of We Get Requests by the Oscar Peterson Trio not long ago that blew our minds. And we have been big fans of Mel Tormé Swings Shubert Alley for more than a decade.
Pull up his credits on Allmusic. No one I am familiar with other than Rudy Van Gelder recorded more great jazz, and in our opinion Valentin's recordings are quite a bit more natural sounding than Rudy's, especially with regard to the sound of the piano.
What We're Listening For on The Blues Is Now
Energy for starters. What could be more important than the life of the music?
The Big Sound comes next — wall to wall, lots of depth, huge space, three-dimensionality, all that sort of thing.
Then transient information — fast, clear, sharp attacks, not the smear and thickness common to most LPs.
Tight, note-like bass with clear fingering — which ties in with good transient information, as well as the issue of frequency extension further down.
Next: transparency — the quality that allows you to hear deep into the soundfield, showing you the space and air around all the players.
Extend the top and bottom and voila, you have The Real Thing — an honest to goodness Hot Stamper.
The Players
Jimmy Witherspoon – vocals
Jack McDuff – arranger, organ
Leo Johnson, Danny Turner – alto saxophone, tenor saxophone, flute
Melvin Sparks – guitar
Jymie Merritt – bass guitar
Ray Appleton – drums
TRACK LISTING
Side One
Sweet Slumber
I'm Gonna Move To The Outskirts Of Town
Past Forty Blues
S.K. Blues
Late One Evening
Side Two
Part Time Woman
Good Rocking Tonight
I Won't Tell A Soul (I Love You)
My Baby's Quit Me
My Money's Long This Morning, Baby
AMG 4 Star Review
Jimmy Witherspoon recorded a series of excellent albums for Verve in the late '60s. Unfortunately, these have not received the attention they deserve, and are frequently relegated in Witherspoon's huge catalog. The Blues Is Now is arguably the finest of these recordings, and Witherspoon's voice is in top form and hugely expressive. Like all of the artist's albums of the decade, it's not the most consistent of listening experiences, but that's of little interest when songs and performances are as good as "My Baby's Quit Me" and Witherspoon's own "Late One Evening." A light-night blues classic, this is Witherspoon at his most relaxed and assured and is a joy to listen to.