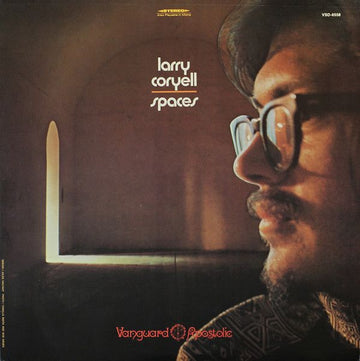 Larry Coryell returns with this outstanding copy of Spaces, boasting a Shootout Winning Triple Plus (A+++) side one

Just as rich, lively and clear, with plenty of space for this exceptional ensemble to occupy as you would expect from a vintage Vanguard recording (1970)

Features jazz greats John McLaughlin on guitar, Chick Corea on electric piano, Miroslav Vitouš on bass, and Billy Cobham on drums

4 stars: "This album features the pioneer fusion guitarist Larry Coryell with quite an all-star group… contains some lyricism often lacking in fusion of the mid-'70s… a stimulating album worth searching for."
*NOTE: On side two, a noisy edge (EX++) clears up about one quarter inch or so into the music on side two.
Vintage covers for this album are almost impossible to find in exceptionally clean shape. Most of them will have a fair amount of ringwear, as well as some seam wear and edge wear. If you are picky about your covers it's unlikely we can supply you with a cover you will be happy with. They are just too hard to find. This one is less than VG with quite a bit of ringwear.
---
This was a very difficult album to find in audiophile playing condition. It took us a couple of years to find enough clean copies to get the shootout going.
This vintage Vanguard Apostolic pressing has the kind of Tubey Magical Midrange that modern records rarely even BEGIN to reproduce. Folks, that sound is gone and it sure isn't showing signs of coming back. If you love hearing INTO a recording, actually being able to "see" the performers, and feeling as if you are sitting in the studio with the band, this is the record for you. It's what vintage all analog recordings are known for — this sound.
If you exclusively play modern repressings of vintage recordings, I can say without fear of contradiction that you have never heard this kind of sound on vinyl. Old records have it — not often, and certainly not always — but maybe one out of a hundred new records do, and those are some pretty long odds.
What the best sides of Spaces have to offer is not hard to hear
The biggest, most immediate staging in the largest acoustic space

The most Tubey Magic, without which you have almost nothing. CDs give you clean and clear. Only the best vintage vinyl pressings offer the kind of Tubey Magic that was on the tapes in 1970

Tight, note-like, rich, full-bodied bass, with the correct amount of weight down low

Natural tonality in the midrange — with all the instruments having the correct timbre

Transparency and resolution, critical to hearing into the three-dimensional studio space
No doubt there's more but we hope that should do for now. Playing the record is the only way to hear all of the qualities we discuss above, and playing the best pressings against a pile of other copies under rigorously controlled conditions is the only way to find a pressing that sounds as good as this one does.
What We're Listening For on Spaces
Energy for starters. What could be more important than the life of the music?
Then: presence and immediacy. The vocals aren't "back there" somewhere, lost in the mix. They're front and center where any recording engineer worth his salt would put them.
The Big Sound comes next — wall to wall, lots of depth, huge space, three-dimensionality, all that sort of thing.
Then transient information — fast, clear, sharp attacks, not the smear and thickness so common to these LPs.
Tight punchy bass — which ties in with good transient information, also the issue of frequency extension further down.
Next: transparency — the quality that allows you to hear deep into the soundfield, showing you the space and air around all the instruments.
Extend the top and bottom and voila, you have The Real Thing — an honest to goodness Hot Stamper.
The Players
Larry Coryell – guitar

John McLaughlin – guitar

Chick Corea – electric piano

Miroslav Vitous – double bass

Billy Cobham – drums
TRACK LISTING
Side One
Spaces (Infinite)
Rene's Theme
Gloria's Step
Side Two
Wrong Is Right
Chris
New Year's Day In Los Angeles – 1968
AMG 4 Star Review
This album features the pioneer fusion guitarist Larry Coryell with quite an all-star group.
Two selections match Coryell with fellow guitarist John McLaughlin, bassist Miroslav Vitous (doubling on cello) and drummer Billy Cobham, all important fusion players at the time. "Rene's Theme" is a guitar duet with McLaughlin, while "Gloria's Steps" (a Scott LaFaro composition) has Coryell, Vitous and Cobham jamming as a trio. Chick Corea sits in on electric keyboard for "Chris," and the 20-second closer ("New Year's Day in Los Angeles — 1968") finds Coryell playing alone.
Overall, the music has its energetic moments, but also contains some lyricism often lacking in fusion of the mid-'70s. In addition, all of the musicians already had their own original voices, making Spaces a stimulating album worth searching for.