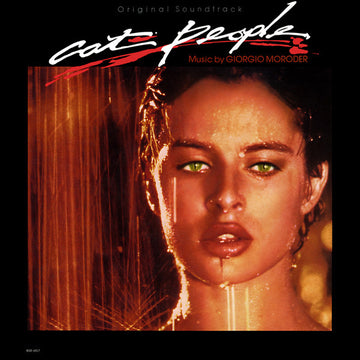 You'll find outstanding Demo Disc sound here, with each side earning solid Double Plus (A++) grades

Eno fans should get a lot out of this one, as should anyone who digs the crazy sound of '70s and early '80s analog synths

Bowie's Putting Out Fire is the obvious high point of the album and it rocks like crazy on this pressing

Superb transparency is key to the best copies and this one has exceptional clarity on both sides
Wonderful sound for both sides of this TAS List Super Disc. We just finished a big shootout for this album, and this knockout copy sounded far better than much of the competition. Drop the needle on any track for some of the better sounding synthesizers you'll ever hear.
Outstanding on both sides, with punchy bass and full-on major Whomp Factor. This kind of low frequency energy really fills the room; the soundscape is wall to wall and floor to ceiling. We know what Harry likes about this one — the Big Bold Sound with tons of Bottom End — and we have to admit that we like it too. This is the kind of record that KILLS on big speakers.
Eno fans should get a lot out of this one, as should anyone who digs the crazy sound of analog synthesizers of the '70s and early '80s. The Bowie track (Cat People) is great, of course, but you won't find anything else resembling a pop song here — just a bunch of dark, trippy soundscapes with animal noises and some wild sound effects.
It isn't easy to find clean copies of this one anymore. Much like Sergio Mendes' Stillness, there are passages on here that are being sampled and turned into rap songs. Hey, with all these wild synth sounds, plus the funky Lee Sklar handling bass duties, who can blame 'em?
What the best sides of Cat People have to offer is not hard to hear
The biggest, most immediate staging in the largest acoustic space

The most Tubey Magic, without which you have almost nothing. CDs give you clean and clear. Only the best vintage vinyl pressings offer the kind of Tubey Magic that was on the tapes even as late as 1982

Tight, note-like, rich, full-bodied bass, with the correct amount of weight down low

Natural tonality in the midrange — with all the instruments having the correct timbre

Transparency and resolution, critical to hearing into the three-dimensional studio space
No doubt there's more but we hope that should do for now. Playing the record is the only way to hear all of the qualities we discuss above, and playing the best pressings against a pile of other copies under rigorously controlled conditions is the only way to find a pressing that sounds as good as this one does.
The Sound
Both sides jump out with big and bold sound with in-the-room presence. On this Hot Stamper, you get more texture to the synths than the typical veiled copy. It's sweet up top and rockin' down low. There is tons of ambience around the snare that gives the crisp attack plenty of room to shine.
The transparency is uncanny. It's open, airy, and spacious up top. All of the ambience and presence we require are here in spades. The tight punchy bass is phenomenal on this copy. The extension on both ends of the frequency spectrum is exceptional.
What We're Listening For on Cat People
Energy for starters. What could be more important than the life of the music?
Then: presence and immediacy. The vocals aren't "back there" somewhere, lost in the mix. They're front and center where any recording engineer worth his salt would put them.
The Big Sound comes next — wall to wall, lots of depth, huge space, three-dimensionality, all that sort of thing.
Then transient information — fast, clear, sharp attacks, not the smear and thickness so common to these LPs.
Tight punchy bass — which ties in with good transient information, also the issue of frequency extension further down.
Next: transparency — the quality that allows you to hear deep into the soundfield, showing you the space and air around all the instruments.
Extend the top and bottom and voila, you have The Real Thing — an honest to goodness Hot Stamper.
TAS List Thoughts
It's time to trot out our thoughts on the TAS List once again. Those of you who have been following the site for a long time may know these lines by heart by now, so feel free to sing along.
There's a reason this record is on the TAS list, but you'd never know it by playing the average Columbia pressing. Most copies of this record would never be considered a Super Disc. You would never even know how magical this recording is by playing a copy that for all intents and purposes appears to be the pressing that Harry Pearson is recommending on his Super Disc list. The catalog number is the same; the sound is not. Unless you have at least a dozen copies of this record, you have very little chance of finding even one exceptional side.
This has always been the problem with the TAS list. The pressing variations on a record like this are HUGE and DRAMATIC. There is a world of difference between this copy and what the typical audiophile owns based on HP's list. I've been complaining for years that the catalog number Harry supplies has very little benefit to the typical audiophile record lover. Without at least the right stampers, the amount of work required to find a copy that deserves a Super Disc ranking is daunting, requiring the kind of time and effort that few audiophiles could ever devote to such a difficult and frustrating project.
TRACK LISTING
Side One
Cat People
The Autopsy
Irena's Theme
Night Rabbit
Leopard Tree Dream
Side Two
Pauls' Theme
The Myth
To The Bridge
Transformation Seduction
Bring The Prod