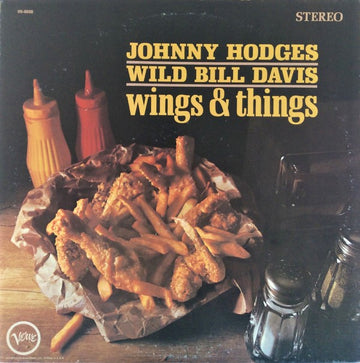 A KILLER copy of Wings & Things with amazing Shootout Winning Triple Plus (A+++) sound from start to finish

The 1965 stereo sound here is clear, open and highly resolving, yet still incredibly rich, warm, and smooth

All the hallmarks of Vintage Analog are fully on display – when was the last time we played a Heavy Vinyl pressing that sounded as good as this one does? We can't remember

This original vintage Verve LP has TONS of Tubey Magic – it's simply more musically involving than the other copies we played, and that's the quickest way to win a shootout

"The group always swings, and it is interesting to hear Hodges in this setting."
This vintage Verve Stereo pressing has the kind of Tubey Magical Midrange that modern records can barely BEGIN to reproduce. Folks, that sound is gone and it sure isn't showing signs of coming back. If you love hearing INTO a recording, actually being able to "see" the performers, and feeling as if you are sitting in the studio with the band, this is the record for you. It's what vintage all analog recordings are known for — this sound.
If you exclusively play modern repressings of vintage recordings, I can say without fear of contradiction that you have never heard this kind of sound on vinyl. Old records have it — not often, and certainly not always — but maybe one out of a hundred new records do, and those are some pretty long odds.
What Amazing Sides Such as These Have to Offer Is Not Hard to Hear
The biggest, most immediate staging in the largest acoustic space

The most Tubey Magic, without which you have almost nothing. CDs give you clean and clear. Only the best vintage vinyl pressings offer the kind of Tubey Magic that was on the tapes in 1965

Tight, note-like, rich, full-bodied bass, with the correct amount of weight down low

Natural tonality in the midrange — with all the instruments having the correct timbre

Transparency and resolution, critical to hearing into the three-dimensional studio space
No doubt there's more but we hope that should do for now. Playing the record is the only way to hear all of the qualities we discuss above, and playing the best pressings against a pile of other copies under rigorously controlled conditions is the only way to find a pressing that sounds as good as this one does.
Best Practices
If you have five or ten copies of a record and play them over and over against each other, the process itself teaches you what's right and what's wrong with the sound of the album. Once your ears are completely tuned to what the best pressings do well that the others do not do as well, using a few specific passages of music, it will quickly become obvious how well any given pressing reproduces those passages.
The process is simple enough. First, you go deep into the sound. There you find something special, something you can't find on most copies. Now, with the hard-won knowledge of precisely what to listen for, you are perfectly positioned to critique any and all pressings that come your way.
What We're Listening For on Wings and Things
Energy for starters. What could be more important than the life of the music?
The Big Sound comes next — wall to wall, lots of depth, huge space, three-dimensionality, all that sort of thing.
Then transient information — fast, clear, sharp attacks, not the smear and thickness so common to these LPs.
Tight punchy bass — which ties in with good transient information, also the issue of frequency extension further down.
Next: transparency — the quality that allows you to hear deep into the soundfield, showing you the space and air around all the instruments.
Extend the top and bottom and voila, you have The Real Thing — an honest to goodness Hot Stamper.
The Players
Johnny Hodges – alto saxophone

Wild Bill Davis – organ

Lawrence Brown – trombone

Grant Green – guitar

Hank Jones – piano

Richard Davis – double bass

Ben Dixon – drums
TRACK LISTING
Side One
Wings And Things
The Nearness Of You
Imbo
Take The 'A' Train
Side Two
Spotted Dog
Cassanova
Dow De Dow Dow Dow
Peg O' My Heart
AMG  Review
Altoist Johnny Hodges and organist Wild Bill Davis made quite a few records together during the 1960s, although each of their efforts had slightly different personnel. In the case of this long out-of-print Verve LP, they are assisted by trombonist Lawrence Brown, guitarist Grant Green, bassist Richard Davis, drummer Ben Dixon and, on three numbers, pianist Hank Jones.
With the exception of "Take the 'A' Train" and the two ballads "The Nearness of You" and "Peg O' My Heart," the material (including three Hodges originals and Duke Ellington's "Imbo") is quite obscure. The group always swings, and it is interesting to hear Hodges in this setting.