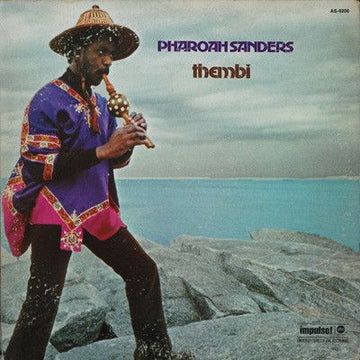 Pharoha Sanders makes his Hot Stamper debut here with STUNNING Triple Plus (A+++) sound from first note to last

We guarantee there is dramatically more richness, fullness, and performance energy on this copy than others you've heard, and that's especially true if you made the mistake of buying whatever Heavy Vinyl pressing is currently on the market

4 stars: "Recorded with two different ensembles, Thembi was a departure from the slowly developing, side-long, mantra-like grooves Pharoah Sanders had been pursuing for most of his solo career… it's rare to have this many different sides of Sanders coexisting in one place, and that's what makes the album such an interesting listen."
*CONDITION NOTES:
On side two, a mark makes 11 moderately-loud crackles about two-thirds of the way into track one, Love, and the track overall plays Mint Minus Minus to EX++.
Sometimes the copy with the best sound is not the copy with the quietest vinyl. The best sounding copy is always going to win the shootout, the condition of its vinyl not withstanding. If you can tolerate the problems on this pressing you are in for some amazing Pharoah Sanders music and sound. If for any reason you are not happy with the sound or condition of the album we are of course happy to take it back for a full refund, including the domestic return postage.
This vintage Impulse stereo pressing has the kind of Tubey Magical Midrange that modern records rarely even BEGIN to reproduce. Folks, that sound is gone and it sure isn't showing signs of coming back. If you love hearing INTO a recording, actually being able to "see" the performers, and feeling as if you are sitting in the studio with the band, this is the record for you. It's what vintage all analog recordings are known for — this sound.
If you exclusively play modern repressings of vintage recordings, I can say without fear of contradiction that you have never heard this kind of sound on vinyl. Old records have it — not often, and certainly not always — but maybe one out of a hundred new records do, and those are some pretty long odds.
What the best sides of Thembi have to offer is not hard to hear:
Transparency and resolution, critical to hearing into the three-dimensional space of the studio

The biggest, most immediate staging in the largest acoustic space

The most Tubey Magic, without which you have almost nothing. CDs give you clean and clear. Only the best vintage vinyl pressings offer the kind of Tubey Magic that was on the tapes in 1971

Tight, note-like, rich, full-bodied bass, with the correct amount of weight down low

Natural tonality in the midrange — with all the instruments having the correct timbre
No doubt there's more but we hope that should do for now. Playing the record is the only way to hear all of the qualities we discuss above, and playing the best pressings against a pile of other copies under rigorously controlled conditions is the only way to find a pressing that sounds as good as this one does.
Copies with rich lower mids and nice extension up top did the best in our shootout, assuming they weren't veiled or smeary of course. So many things can go wrong on a record! We know, we've heard them all.
Top end extension is critical to the sound of the best copies. Lots of old records (and new ones) have no real top end; consequently, the studio or stage will be missing much of its natural air and space, and instruments will lack their full complement of harmonic information.
Tube smear is common to most vintage pressings and this is no exception. The copies that tend to do the best in a shootout will have the least (or none), yet are full-bodied, tubey and rich.
What We're Listening For on Thembi
Energy for starters. What could be more important than the life of the music?
The Big Sound comes next — wall to wall, lots of depth, huge space, three-dimensionality, all that sort of thing.
Then transient information — fast, clear, sharp attacks, not the smear and thickness common to most LPs.
Tight, note-like bass with clear fingering — which ties in with good transient information, as well as the issue of frequency extension further down.
Next: transparency — the quality that allows you to hear deep into the soundfield, showing you the space and air around all the players.
Then: presence and immediacy. The musicians aren't "back there" somewhere, way behind the speakers. They're front and center where any recording engineer worth his salt would have put them.
Extend the top and bottom and voila, you have The Real Thing — an honest to goodness Hot Stamper.
The Players
Pharoah Sanders – tenor and soprano saxophones, alto flute, koto, brass bells, balaphone, maracas, cow horn, fifes
Lonnie Liston Smith – piano, electric piano, claves, percussion, ring cymbal, shouts, balaphone
Michael White – violin, percussion
Cecil McBee – bass, finger cymbal, percussion
Roy Haynes – drums
Clifford Jarvis – drums, maracas, bells, percussion
Nat Bettis, Chief Bey, Majid Shabazz, Anthony Wiles – African percussion
James Jordan – ring cymbal
TRACK LISTING
Side One
Astral Traveling
Red, Black & Green
Thembi
Side Two
Love
Morning Prayer
Bailophone Dance
AMG 4 Star Review
Recorded with two different ensembles, Thembi was a departure from the slowly developing, side-long, mantra-like grooves Pharoah Sanders had been pursuing for most of his solo career. It's musically all over the map but, even if it lacks the same consistency of mood as many of Sanders' previous albums, it does offer an intriguingly wide range of relatively concise ideas, making it something of an anomaly in Sanders' prime period.
Over the six selections, Sanders romps through a tremendous variety of instruments, including tenor, soprano, alto flute, fifes, the African bailophone, assorted small percussion, and even a cow horn…
The compositions, too, try all sorts of different things. Keyboardist/pianist Lonnie Liston Smith's "Astral Traveling" is a shimmering, pastoral piece centered around his electric piano textures; "Love" is an intense, five-minute bass solo by Cecil McBee; and "Morning Prayer" and "Bailophone Dance" (which are segued together) add an expanded percussion section devoted exclusively to African instruments.
If there's a unifying factor, it's the classic title track, which combines the softer lyricism of Sanders' soprano and Michael White's violin with the polyrhythmic grooves of the most Africanized material (not to mention a catchy bass riff). Some fans may gripe that Thembi isn't conceptually unified or intense enough, but it's rare to have this many different sides of Sanders coexisting in one place, and that's what makes the album such an interesting listen.