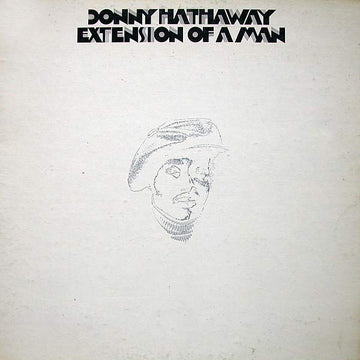 Hathaway's superb 1973 release finally arrives on the site with KILLER Shootout Winning Triple Plus (A+++) sound from start to finish

Clearly better than every other pressing we played – when you can hear it sound this good you may just come to appreciate what a talent the man was

Donny's final releases as a solo artist and arguably his studio masterpiece (his live album is absolute Must Own)

4 stars: "Ranging from inner-city soul to orchestral grandeur to a bluesy ballad to easy-listening pleasantries, Extension of a Man was Donny Hathaway's most ambitious LP, the justly titled capstone to his phenomenal career."
This vintage Atco pressing has the kind of Tubey Magical Midrange that modern records can barely BEGIN to reproduce. Folks, that sound is gone and it sure isn't showing signs of coming back. If you love hearing INTO a recording, actually being able to "see" the performers, and feeling as if you are sitting in the studio with the band, this is the record for you. It's what vintage all analog recordings are known for — this sound.
If you exclusively play modern repressings of vintage recordings, I can say without fear of contradiction that you have never heard this kind of sound on vinyl. Old records have it — not often, and certainly not always — but maybe one out of a hundred new records do, and those are some pretty long odds.
What Amazing Sides Such as These Have to Offer Is Not Hard to Hear
The biggest, most immediate staging in the largest acoustic space

The most Tubey Magic, without which you have almost nothing. CDs give you clean and clear. Only the best vintage vinyl pressings offer the kind of Tubey Magic that was on the tapes in 1973

Tight, note-like, rich, full-bodied bass, with the correct amount of weight down low

Natural tonality in the midrange — with all the instruments having the correct timbre

Transparency and resolution, critical to hearing into the three-dimensional studio space
No doubt there's more but we hope that should do for now. Playing the record is the only way to hear all of the qualities we discuss above, and playing the best pressings against a pile of other copies under rigorously controlled conditions is the only way to find a pressing that sounds as good as this one does.
What We're Listening For on [ALBUM NAME]
Energy for starters. What could be more important than the life of the music?
Then: presence and immediacy. The vocals aren't "back there" somewhere, lost in the mix. They're front and center where any recording engineer worth his salt would put them.
The Big Sound comes next — wall to wall, lots of depth, huge space, three-dimensionality, all that sort of thing.
Then transient information — fast, clear, sharp attacks, not the smear and thickness so common to these LPs.
Tight punchy bass — which ties in with good transient information, also the issue of frequency extension further down.
Next: transparency — the quality that allows you to hear deep into the soundfield, showing you the space and air around all the instruments.
Extend the top and bottom and voila, you have The Real Thing — an honest to goodness Hot Stamper.
TRACK LISTING
Side One
I Love The Lord ; He Heard Me Cry (Parts I & II)
Someday We'll All Be Free
Flying Easy
Valdez In The Country
I Love You More Than You'll Ever Know
Side Two
Come Little Children
Love, Love, Love
The Slums
Magdalena
I Know It's You
AMG 4 Star Review
Ranging from inner-city soul to orchestral grandeur to a bluesy ballad to easy-listening pleasantries, Extension of a Man was Donny Hathaway's most ambitious LP, the justly titled capstone to his phenomenal career. Coming, however, from one of soul music's most widely talented figures, this wasn't exactly a surprise; both of his previous studio full-lengths, Everything Is Everything and Donny Hathaway, treated soul as merely a starting point to express his multitude of ideas concerning music and arrangement, song and performance.
On Extension of a Man, the ambition began and peaked with the opener, a six-minute orchestral piece titled "I Love the Lord; He Heard My Cry, Pts. 1-2." Arranged and orchestrated for 45 musicians by Hathaway himself, it applied the buoyant optimism of Gershwin's Rhapsody in Blue to a religious context, and segued smoothly into the transcendent "Someday We'll All Be Free," one of Hathaway's most beloved songs. The next two pieces, "Flying Easy" and "Valdez in the Country," were also Hathaway originals, first recorded during the late '60s as part of Chess studio groups; the first is a piece of pop-soul fluff lifted up by his superb reading, the second a smooth jazz-fusion jam with Hathaway illustrating on electric piano his excellent improv capabilities. "Love, Love, Love" and "Come Little Children" were the charting singles, the former a sublime love song heavily influenced by Marvin Gaye's What's Going On.
Unfortunately, these disparate pieces, brilliant as they are, don't coalesce into a single work as well as on his masterpiece Everything Is Everything, but Hathaway never stops impressing with his conceptions of arrangement and performance. Crippled by depression, he would never release another solo album during the last five years of his life, though among the projects he'd hoped to record was the four-part concerto Life, to be performed by the Boston Pops Symphony Orchestra with him in the conductor's chair, and the score of an epic biblical film.