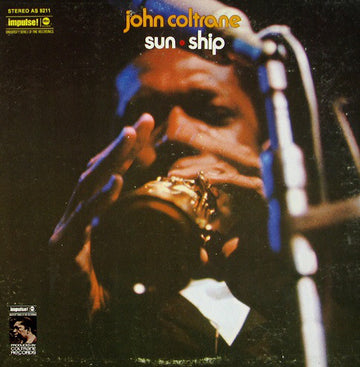 Coltrane's final album finally arrives on the site with outstanding Double Plus (A++) sound or BETTER throughout – fairly quiet vinyl too

Huge space, size and clarity, with Tubey Magical richness befitting the 1965 recording date of this session at RCA studios

Released posthumously, this superb release captures one of the last recording dates for the Classic Quartet: drummer Elvin Jones, pianist McCoy Tyner, and bassist Jimmy Garrison

4 stars: "While a summation for this quartet, Sun Ship is also an exciting if unfinished prelude to Coltrane's final period of transformation."
*NOTE: On side two, a mark on the edge makes 5 moderately light ticks at the very beginning of track 1, Attaining.
Vintage covers for this album are hard to find in clean shape. Most of them will have at least some ringwear, seam wear and edge wear. Some will have cut corners. We guarantee that the cover we supply with this Hot Stamper is at least VG, and it will probably be VG+. If you are picky about your covers please let us know in advance so that we can be sure we have a nice enough cover for you.
This Impulse! pressing has the kind of Tubey Magical Midrange that modern records rarely even BEGIN to reproduce. Folks, that sound is gone and it sure isn't showing signs of coming back. If you love hearing INTO a recording, actually being able to "see" the performers, and feeling as if you are sitting in the studio with this quartet, this is the record for you. It's what vintage all analog recordings are known for — this sound.
If you exclusively play modern repressings of vintage recordings, I can say without fear of contradiction that you have never heard this kind of sound on vinyl. Old records have it — not often, and certainly not always — but maybe one out of a hundred new records do, and those are some pretty long odds.
What the best sides of Sun Ship have to offer is not hard to hear:
Transparency and resolution, critical to hearing into the three-dimensional space of the studio

The biggest, most immediate staging in the largest acoustic space

The most Tubey Magic, without which you have almost nothing. CDs give you clean and clear. Only the best vintage vinyl pressings offer the kind of Tubey Magic that was on the tapes in 1965

Tight, note-like, rich, full-bodied bass, with the correct amount of weight down low

Natural tonality in the midrange — with all the instruments having the correct timbre
No doubt there's more but we hope that should do for now. Playing the record is the only way to hear all of the qualities we discuss above, and playing the best pressings against a pile of other copies under rigorously controlled conditions is the only way to find a pressing that sounds as good as this one does.
Copies with rich lower mids and nice extension up top did the best in our shootout, assuming they weren't veiled or smeary of course. So many things can go wrong on a record! We know, we've heard them all.
Top end extension is critical to the sound of the best copies. Lots of old records (and new ones) have no real top end; consequently, the studio or stage will be missing much of its natural air and space, and instruments will lack their full complement of harmonic information.
Tube smear is common to most vintage pressings and this is no exception. The copies that tend to do the best in a shootout will have the least (or none), yet are full-bodied, tubey and rich.
What We're Listening For on Sun Ship
Energy for starters. What could be more important than the life of the music?
The Big Sound comes next — wall to wall, lots of depth, huge space, three-dimensionality, all that sort of thing.
Then transient information — fast, clear, sharp attacks, not the smear and thickness common to most LPs.
Tight, note-like bass with clear fingering — which ties in with good transient information, as well as the issue of frequency extension further down.
Next: transparency — the quality that allows you to hear deep into the soundfield, showing you the space and air around all the players.
Extend the top and bottom and voila, you have The Real Thing — an honest to goodness Hot Stamper.
Standard Operating Procedures
What are the sonic qualities by which a Jazz recording — any Jazz recording — should be judged? Pretty much the ones we discuss in most of our Hot Stamper listings: energy, frequency extension (on both ends), transparency, spaciousness, harmonic textures (freedom from smear is key), rhythmic drive, tonal correctness, fullness, richness, three-dimensionality, and on and on down the list.
When we can get most of the qualities we mention above to come together on the side we're playing, we provisionally award it a Hot Stamper grade, which may or may not be revised over the course of the shootout as we hear what the various other copies sound like. Once we've been through all our side ones, we then play the best of the best against each other and arrive at a winner. Other copies have their grades raised or lowered depending on how they sounded relative to the shootout winner. Repeat the process for the other side and the shootout is officially over. All that's left is to see how the sides of each pressing match up.
That's why the most common grade for a White Hot stamper pressing is Triple Plus (A+++) on one side and Double Plus (A++) on the other. Finding the two best sounding sides from a shootout on the same LP certainly does happen, but is sure doesn't happen as often as we would like (!) — there are just too many variables in the mastering and pressing processes to insure consistent quality.
It may not be rocket science, but it's a science of a kind, one with strict protocols that we've developed over the course of many years to insure that the results we arrive at are as accurate as we can make them.
The result of all our work speaks for itself, on this very record in fact. We guarantee you have never heard this music sound better than it does on our Hot Stamper pressing — or your money back.
TRACK LISTING
Side One
Sun Ship
Dearly Beloved
Amen
Side Two
Attaining
Ascent
AMG 4 Star Review
Recorded on August 26, 1965 (and not released until after his death in heavily edited form), Sun Ship was the final recording by John Coltrane's quartet with drummer Elvin Jones, pianist McCoy Tyner, and bassist Jimmy Garrison. After nearly four years together, this band had achieved a vital collective identity. When Coltrane moved toward metrically free styles of rhythm and melody (with tunes often based on one chord or a short series of notes as themes), the quartet's rhythmic pulse and collective interplay evolved accordingly.
The title track opens with a splintered theme. Garrison and Jones group dramatically around the leader's call, then rhythmically abstract the pulse; they imply a central rhythm more than state one. Tyner crafts a monumental solo full of crashing modulations and heated single lines. Coltrane reenters at full tilt, alternating throttled upper-register cries with crunching bass declamations, using multiphonics and altissimo as the levitating rhythm boils around him. Garrison and Jones are featured on "Ascent" and "Attaining," where they unveil bold new solutions for coming in and out of tempo, and manipulating dynamics while maintaining an amorphous yet authoritative ebb and flow.
The gyrating, oceanic waves of "Dearly Beloved" suggest earlier balladic explorations such as "Alabama," with Coltrane's keening tenor providing a taut melodic focus for the multi-layered, nearly ritualistic rhythms surrounding him. Tyner's great chordal waves and contrapuntal motion build to a surging climax before the saxophonist reenters to bring them all home. On "Amen," the saxophonist announces a spare modal theme that evokes swing, but refracts it through free jazz. While a summation for this quartet, Sun Ship is also an exciting if unfinished prelude to Coltrane's final period of transformation.