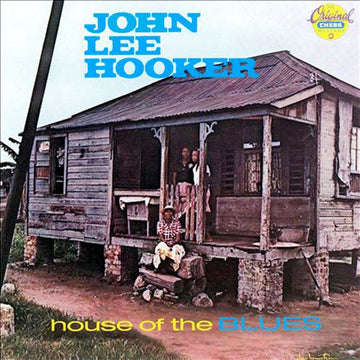 This outstanding pressing boasts solid Double Plus (A++) sound from start to finish – fairly quiet vinyl too

This early '50s material has shockingly natural sound, no doubt the result of having been recorded, like most of John Lee Hooker's albums, live in the studio

A masterful collection of songs recorded between 1951 and 1954, this album showcases the "King of the Boogie" in top form

4 stars: "Some important titles here: an ominous 'Leave My Wife Alone,' and the stark 'Sugar Mama' and 'Ramblin' by Myself,' and with Eddie Kirkland on second guitar, 'Louise' and 'High Priced Woman.'"
*NOTE: On side two, a mark makes 4 moderate pops at the beginning of in Track 1, Sugar Mama.
My notes for the sound of the third track read "very real." You get the feeling that whatever John Lee Hooker played and sang on that day in 1959 ended up on this record sounding just the way he performed it, live to one-track.
Old and New
This '50s recording has the kind of Tubey Magical Midrange that modern pressings cannot BEGIN to reproduce. Folks, that sound is gone and it sure isn't showing any sign of coming back.
Having done this for so long, we understand and appreciate that rich, full, solid, Tubey Magical sound is key to the presentation of this primarily vocal music. We rate these qualities higher than others we might be listening for (e.g., bass definition, soundstage, depth, etc.). The music is not so much about the details in the recording, but rather in trying to recreate a solid, palpable, real John Lee Hooker singing live in your listening room. The best copies have an uncanny way of doing just that.
If you exclusively play modern repressings of older recordings (this one is now 59 years old), I can say without fear of contradiction that you have never heard this kind of sound on vinyl. Old records have it — not often, and certainly not always — but less than one out of 100 new records do, if our experience with the hundreds we've played can serve as a guide.
What We're Listening For on House of the Blues
Energy for starters. What could be more important than the life of the music?
Then: presence and immediacy. The vocals aren't "back there" somewhere, lost in the mix. They're front and center where any recording engineer worth his salt would put them.
The Big Sound comes next — wall to wall, lots of depth, huge space, three-dimensionality, all that sort of thing.
Then transient information — fast, clear, sharp attacks, not the smear and thickness so common to these LPs.
Tight punchy bass — which ties in with good transient information, also the issue of frequency extension further down.
Next: transparency — the quality that allows you to hear deep into the soundfield, showing you the space and air around all the instruments.
Extend the top and bottom and voila, you have The Real Thing — an honest to goodness Hot Stamper.
What to Listen For (WTLF)
This copy has the kind of sound we look for in a top quality Blues album. A few qualities to listen for:
Immediacy in the vocals (so many copies are veiled and distant);
Natural tonal balance (most copies are at least slightly brighter or darker than ideal; ones with the right balance are the exception, not the rule);
Good solid weight (so the bass sounds full and powerful);

Spaciousness (the best copies have wonderful studio ambience and space);

And last but not least, transparency, the quality of being able to see into the studio, where there is plenty of musical information to be revealed in this simple but sophisticated recording.
TRACK LISTING
Side One
Walkin' the Boogie 
Love Blues 
Union Station Blues
It's My Own Fault 
Leave My Wife Alone 
Ramblin' by Myself
Side Two
Sugar Mama 
Down at the Landing 
Louise 
Ground Hog Blues 
High Priced Woman 
Women and Money
AMG  Review
… [collects] 1951-1954 efforts by the Hook. Some important titles here: an ominous "Leave My Wife Alone," and the stark "Sugar Mama" and "Ramblin' by Myself," and with Eddie Kirkland on second guitar, "Louise" and "High Priced Woman."
Wikipedia
Hooker's guitar playing is closely aligned with piano boogie-woogie. He would play the walking bass pattern with his thumb, stopping to emphasize the end of a line with a series of trills, done by rapid hammer-ons and pull-offs. The songs that most epitomize his early sound are "Boogie Chillen", about being 17 and wanting to go out to dance at the Boogie clubs, "Baby, Please Don't Go", a blues standard first recorded by Big Joe Williams, and "Tupelo Blues", a song about the flooding of Tupelo, Mississippi in April 1936.
He maintained a solo career, popular with blues and folk music fans of the early 1960s and crossed over to white audiences, giving an early opportunity to the young Bob Dylan. As he got older, he added more and more people to his band, changing his live show from simply Hooker with his guitar to a large band, with Hooker singing.
His vocal phrasing was less closely tied to specific bars than most blues singers. This casual, rambling style had been gradually diminishing with the onset of electric blues bands from Chicago but, even when not playing solo, Hooker retained it in his sound.
Though Hooker lived in Detroit during most of his career, he is not associated with the Chicago-style blues prevalent in large northern cities, as much as he is with the southern rural blues styles, known as delta blues, country blues, folk blues, or "front porch blues". His use of an electric guitar tied together the Delta blues with the emerging post-war electric blues.