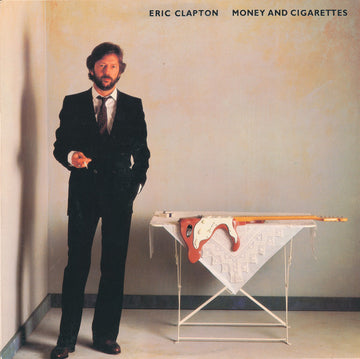 Money and Cigarettes makes its Hot Stamper debut here with outstanding Double Plus (A++) sound from start to finish – exceptionally quiet vinyl too

A superb pressing, with lovely richness and warmth, good space, separation between the instruments, and real immediacy throughout

" Eric Clapton's first album for Warner Bros. is an unexpected show of renewed strength after a debilitating illness and too many sleepy records… the simple, unaffected blues power at work here is surprising and refreshing."
The one real flaw in the recording is the amount of compression the engineer used — it's a bit heavy-handed. This is after all a radio-friendly pop album, so no surprise there. 
This vintage Duck Records pressing has the kind of Tubey Magical Midrange that modern records can barely BEGIN to reproduce. Folks, that sound is gone and it sure isn't showing signs of coming back. If you love hearing INTO a recording, actually being able to "see" the performers, and feeling as if you are sitting in the studio with the band, this is the record for you. It's what vintage all analog recordings are known for — this sound.
If you exclusively play modern repressings of vintage recordings, I can say without fear of contradiction that you have never heard this kind of sound on vinyl. Old records have it — not often, and certainly not always — but maybe one out of a hundred new records do, and those are some pretty long odds.
What The Best Sides Of Money and Cigarettes Have to Offer Is Not Hard to Hear
The biggest, most immediate staging in the largest acoustic space

The most Tubey Magic, without which you have almost nothing. CDs give you clean and clear. Only the best vintage vinyl pressings offer the kind of Tubey Magic that was on the tapes even as late as 1983

Tight, note-like, rich, full-bodied bass, with the correct amount of weight down low

Natural tonality in the midrange — with all the instruments having the correct timbre

Transparency and resolution, critical to hearing into the three-dimensional studio space
No doubt there's more but we hope that should do for now. Playing the record is the only way to hear all of the qualities we discuss above, and playing the best pressings against a pile of other copies under rigorously controlled conditions is the only way to find a pressing that sounds as good as this one does.
What We're Listening For on Money and Cigarettes
Energy for starters. What could be more important than the life of the music?
Then: presence and immediacy. The vocals aren't "back there" somewhere, lost in the mix. They're front and center where any recording engineer worth his salt would put them.
The Big Sound comes next — wall to wall, lots of depth, huge space, three-dimensionality, all that sort of thing.
Then transient information — fast, clear, sharp attacks, not the smear and thickness so common to these LPs.
Tight punchy bass — which ties in with good transient information, also the issue of frequency extension further down.
Next: transparency — the quality that allows you to hear deep into the soundfield, showing you the space and air around all the instruments.
Extend the top and bottom and voila, you have The Real Thing — an honest to goodness Hot Stamper.
TRACK LISTING
Side One
Everybody Oughta Make A Change
The Shape You're In
Ain't Going Down
I've Got A Rock N' Roll Heart
Man Overboard
Side Two
Pretty Girl
Man In Love
Crosscut Saw
Slow Down Linda
Crazy Country Hop
Rolling Stone Review
Just as 1974's 461 Ocean Boulevard marked a confident return from the drug-aggravated funk that followed Layla, Eric Clapton's first album for Warner Bros. is an unexpected show of renewed strength after a debilitating illness and too many sleepy records…. the electricity quietly racing through Clapton's crusty baritone and the saucy cluck of his and Ry Cooder's dueling slide guitars in the album's opener, a frisky cover of the old Sleepy John Estes number "Everybody Oughta Make a Change," may catch you napping.
Bassist Donald "Duck" Dunn (one of Booker T's MGs) and drummer Roger Hawkins (of the Muscle Shoals Rhythm Section) put a solid boot into that first track, kicking hard and steady behind Clapton and Cooder's slippery licks. Albert Lee, a triple threat on rhythm guitars, keyboards and background vocals, pumps the beat up with choppy, burbling organ fills. The next cut, Clapton's own "The Shape You're In," cranks up into a sharp boogie cruiser. His vocals are set off by discreet Jordanaires-style harmonies in the chorus, while his quick guitar bursts alternate with Cooder's tensile Fender-bending during the solo break.
… Like most of Clapton's recent solo records, Money and Cigarettes makes no claim to greatness. Still, the simple, unaffected blues power at work here is surprising and refreshing.