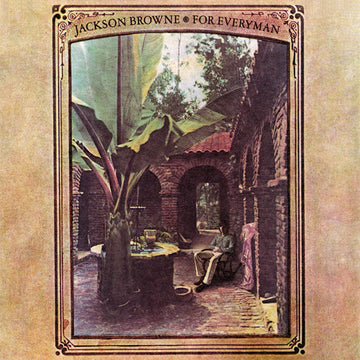 A KILLER copy of JB's sophomore effort with Shootout Winning Triple Plus (A+++) sound or very close to it on both sides
David Lindley joins the band, and talented helpers include Bonnie Raitt, Glen Frey, David Crosby, Elton John and Joni Mitchell
"His work is a unique fusion of West Coast casualness and East Coast paranoia, easygoing slang and painstaking precision, child's-eye romanticizing and adult's-eye acceptance… Brilliantly conceived, incomparably immediate, For Everyman truly earns its title." – Rolling Stone
The average copy of this record is MUD, but this pressing will show you that the master tape of For Everyman is a whole lot better than most music lovers and audiophiles might suspect. (The first album is the same way.)
Want a quick test for transparency? Listen to the piano on I Thought I Was a Child. On most copies you can't really hear the attack of the hammers hitting the strings, but here you can. If the tonal balance is correct — and it is on this copy — then you know you are getting a pressing of very high quality.
Note that the first track on side one almost never sounds as good as those that follow.
Rich, Smooth Asylum Sound
This vintage Asylum pressing has the kind of Tubey Magical Midrange that modern records can barely BEGIN to reproduce. Folks, that sound is gone and it sure isn't showing signs of coming back. If you love hearing INTO a recording, actually being able to "see" the performers, and feeling as if you are sitting in the studio with the band, this is the record for you. It's what vintage all analog recordings are known for — this sound.
If you exclusively play modern repressings of vintage recordings, I can say without fear of contradiction that you have never heard this kind of sound on vinyl. Old records have it — not often, and certainly not always — but maybe one out of a hundred new records do, and those are some pretty long odds.
What the Best Sides of For Everyman Have to Offer Is Not Hard to Hear
The biggest, most immediate staging in the largest acoustic space

The most Tubey Magic, without which you have almost nothing. CDs give you clean and clear. Only the best vintage vinyl pressings offer the kind of Tubey Magic that was on the tapes in 1973

Tight, note-like, rich, full-bodied bass, with the correct amount of weight down low

Natural tonality in the midrange — with all the instruments having the correct timbre

Transparency and resolution, critical to hearing into the three-dimensional studio space
No doubt there's more but we hope that should do for now. Playing the record is the only way to hear all of the qualities we discuss above, and playing the best pressings against a pile of other copies under rigorously controlled conditions is the only way to find a pressing that sounds as good as this one does.
Audiophile Sound of a Different Sort
This is no Audiophile Spectacular in any sense of that phrase. In that way it shares many qualities with its predecessor. Years ago, when doing the shootouts for that album we noted that the copies that were full and warm sounding were far and away the most enjoyable. Those qualities are just as important to this album. Here is what we wrote about JB's debut:
Side one is rich and full and sweet as can be. Playing side two I noticed more transparency and clarity, especially in the guitars and voices. It seemed to have correct highs, highs that were a little soft on the first side.

But the more I listened, the less I liked it. It started to sound more ike a record and less like music. Going back and forth between sides one and two, it was obvious that side one had less clarity because it had a richness and a fullness that made all the musicians and their instruments sound real in a way that wasn't happening on side two. Side two had clarity, it had transparency, but it kept reminding you that it was a recording. Side one allowed you to forget that you were playing a record.

When the music started, my attention was completely focused on the songwriting and the performing. Aspects of the recording were lost in my enjoyment of the music. I kept thinking what a great album this is, not what a great recording it is. That tells me that the engineers — recording and mastering — did their jobs right.

I think if an audiophile label had produced a version of this album that sounded like side two, most audiophiles would love it. They would hear detail that they never heard before. (As I say below, this LP is made from the real tape, so those details can be heard here and nowhere else.) But they would never know how RIGHT this record could really sound.
What We're Listening For on For Everyman
Energy for starters. What could be more important than the life of the music?
Then: presence and immediacy. The vocals aren't "back there" somewhere, lost in the mix. They're front and center where any recording engineer worth his salt would put them.
The Big Sound comes next — wall to wall, lots of depth, huge space, three-dimensionality, all that sort of thing.
Then transient information — fast, clear, sharp attacks, not the smear and thickness so common to these LPs.
Tight punchy bass — which ties in with good transient information, also the issue of frequency extension further down.
Next: transparency — the quality that allows you to hear deep into the soundfield, showing you the space and air around all the instruments.
Extend the top and bottom and voila, you have The Real Thing — an honest to goodness Hot Stamper.
TRACK LISTING
Side One
Take It Easy 
Our Lady of the Well 
Colors of the Sun 
I Thought I Was a Child 
These Days
Side Two
Redneck Friend 
The Times You've Come 
Ready or Not 
Sing My Songs to Me 
For Everyman
AMG Review
Having cherry-picked years of songwriting the first time around, he turned to some of his secondary older material, which was still better than most people's best and, ironically, more accessible — notably such songs as "These Days," which had been covered six times already, dating back to Nico's Chelsea Girl album in 1967, and "Take It Easy," a co-composition with the Eagles' Glenn Frey that had been a Top 40 hit for the group in 1972…
Browne's songwriting ability remained impressive.
Rolling Stone Review
Janet Maslin wrote "[F]or inwardly panoramic songwriting of an apocalyptic bent, Jackson Browne's second album is rivaled only by his first (the second one wins), and Jackson himself is rivaled by nobody," adding that "his work is a unique fusion of West Coast casualness and East Coast paranoia, easygoing slang and painstaking precision, child's-eye romanticizing and adult's-eye acceptance.
Mostly complimentary throughout, she noted that his singing had improved since the first album, and consciously reviews the album by placing it squarely within the context of the times: "Jackson's concerns, even more than his genius for rendering them simultaneously intimate and universal, are the basis for the album's unique strengths. He stands alone as a composite of ambivalence about maturity, weariness of the race, fear that love may not be enough … confusion over whether or not a lasting home can be found in a progressively nightmarish world. He also stands alone as someone who, resigned to all that, is still willing to seek out some quiet way of weathering his time's new trials.
Brilliantly conceived, incomparably immediate, For Everyman truly earns its title.