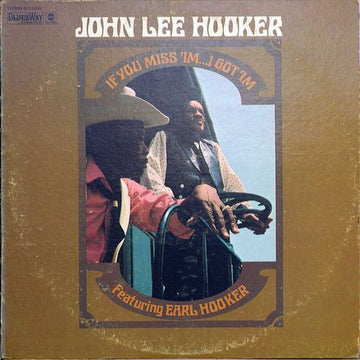 Hooker's wonderful 1970 release finally makes its Hot Stamper debut here with a Shootout Winning Triple Plus (A+++) side two married with an outstanding Double Plus (A++) side one

Rich, smooth and Tubey Magical, this pressing has a lovely musical quality that's missing from some of the copies we played

A delightful collaboration between John Lee and his cousin, Earl Hooker – AMG says he "definitely benefits from keeping it in the family" here

"Heard here less than a year before his death, Earl still sounds frisky and versatile, often utilizing a funky wah-wah style without ever descending into the psychedelic excesses that plagued so many late-'60s electric blues albums."
Vintage covers for this album are hard to find in clean shape. Most of them will have at least some amount of ringwear, seam wear and edge wear. We guarantee that the cover we supply with this Hot Stamper is at least VG, and it will probably be VG+. If you are picky about your covers please let us know in advance so that we can be sure we have a nice cover for you.
This vintage Bluesway pressing has the kind of Tubey Magical Midrange that modern records rarely even BEGIN to reproduce. Folks, that sound is gone and it sure isn't showing signs of coming back. If you love hearing INTO a recording, actually being able to "see" the performers, and feeling as if you are sitting in the studio with the band, this is the record for you. It's what vintage all analog recordings are known for — this sound.
If you exclusively play modern repressings of vintage recordings, I can say without fear of contradiction that you have never heard this kind of sound on vinyl. Old records have it — not often, and certainly not always — but maybe one out of a hundred new records do, and those are some pretty long odds.
What the best sides of If You Miss 'Im…I Got 'Im have to offer is not hard to hear:
The biggest, most immediate staging in the largest acoustic space

The most Tubey Magic, without which you have almost nothing. CDs give you clean and clear. Only the best vintage vinyl pressings offer the kind of Tubey Magic that was on the tapes in 1970

Tight, note-like, rich, full-bodied bass, with the correct amount of weight down low

Natural tonality in the midrange — with all the instruments having the correct timbre

Transparency and resolution, critical to hearing into the three-dimensional space of the studio
No doubt there's more but we hope that should do for now. Playing the record is the only way to hear all of the qualities we discuss above, and playing the best pressings against a pile of other copies under rigorously controlled conditions is the only way to find a pressing that sounds as good as this one does.
Copies with rich lower mids and nice extension up top did the best in our shootout, assuming they weren't veiled or smeary of course. So many things can go wrong on a record! We know, we've heard them all.
Top end extension is critical to the sound of the best copies. Lots of old records (and new ones) have no real top end; consequently, the studio or stage will be missing much of its natural air and space, and instruments will lack their full complement of harmonic information.
Tube smear is common to most vintage pressings and this is no exception. The copies that tend to do the best in a shootout will have the least (or none), yet are full-bodied, tubey and rich.
What We're Listening For on If You Miss 'Im…I Got 'Im
Energy for starters. What could be more important than the life of the music?
The Big Sound comes next — wall to wall, lots of depth, huge space, three-dimensionality, all that sort of thing.
Then transient information — fast, clear, sharp attacks, not the smear and thickness common to most LPs.
Tight, note-like bass with clear fingering — which ties in with good transient information, as well as the issue of frequency extension further down.
Next: transparency — the quality that allows you to hear deep into the soundfield, showing you the space and air around all the players.
Then: presence and immediacy. The vocals aren't "back there" somewhere, way behind the speakers. They're front and center where any recording engineer worth his salt would have put them.
Extend the top and bottom and voila, you have The Real Thing — an honest to goodness Hot Stamper.
The Players
John Lee Hooker – guitar, vocals Earl Hooker – guitar Paul Asbell – guitar Jeffrey Carp – harmonica Johnny "Big Moose" Walker – piano, organ Chester "Gino" Skaggs – bass Roosevelt Shaw – drums
TRACK LISTING
Side One
The Hookers (If You Miss 'Im … I Got 'Im
Baby, I Love You
Lonesome Mood
Bang Bang Bang Bang
If You Take Care Of Me, I'll Take Care Of You
Side Two
Baby, Be Strong
I Wanna Be Your Puppy, Baby
I Don't Care When You Go
Have Mercy On My Soul!
AMG  Review
This album is marked by the interaction between John Lee Hooker and his guitar-playing cousin Earl. Earl, who succumbed to illness in 1970, was a fine bluesman in his own right, possessing a formidable slide technique. Many are unaware that the two often performed together, and the band that accompanies John Lee here also backed Earl frequently. The opening cut, then, a slow 12-bar number called "The Hookers" is not about ladies of the evening, but rather about the gentlemen in question.
Heard here less than a year before his death, Earl still sounds frisky and versatile, often utilizing a funky wah-wah style without ever descending into the psychedelic excesses that plagued so many late-'60s electric blues albums. One of the most effective cuts is "Lonesome Mood," a low-key, one-chord stomper in the classic John Lee mold, where Earl's wah-wah guitar meshes with Johnny Walker's organ and Jefferey Carp's harmonica to create a subtly shifting, sensuously undulating web of sound over which John Lee works his hoodoo. On IF YOU MISS 'IM, John Lee definitely benefits from keeping it in the family.