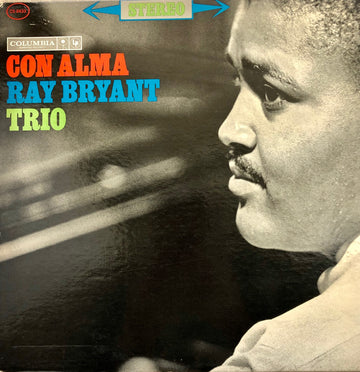 This 6 Eye Stereo original copy of Bryan's superb 1961 release offers outstanding Double Plus (A++) sound on both sides

Impossibly rare on the original label in stereo with audiophile playing surfaces, this superb Columbia 30th Street Studio recording has that "Time Out" sound we love, so spacious and natural

Full-bodied and warm, exactly the way you want your vintage analog to sound – the piano is surprisingly real here — solid and dynamic

"… one of pianist Ray Bryant's favorite trio records. Supported by either Bill Lee or Arthur Harper on bass and drummer Mickey Roker, Bryant is typically soulful, swinging and reasonably explorative…"

"Ray Bryant ranks this album, along with his Prestige/New Jazz release Alone With The Blues, as his two favorites and who could argue with him: they are both great albums."
This vintage Columbia 6 Eye Stereo pressing has the kind of Tubey Magical Midrange that modern records can barely BEGIN to reproduce. Folks, that sound is gone and it sure isn't showing signs of coming back. If you love hearing INTO a recording, actually being able to "see" the performers, and feeling as if you are sitting in the studio with the band, this is the record for you. It's what vintage all analog recordings are known for — this sound.
If you exclusively play modern repressings of vintage recordings, I can say without fear of contradiction that you have never heard this kind of sound on vinyl. Old records have it — not often, and certainly not always — but maybe one out of a hundred new records do, and those are some pretty long odds.
What The Best Sides of Con Alma Have to Offer Is Not Hard to Hear
The biggest, most immediate staging in the largest acoustic space

The most Tubey Magic, without which you have almost nothing. CDs give you clean and clear. Only the best vintage vinyl pressings offer the kind of Tubey Magic that was on the tapes in 1961

Tight, note-like, rich, full-bodied bass, with the correct amount of weight down low

Natural tonality in the midrange — with all the instruments having the correct timbre

Transparency and resolution, critical to hearing into the three-dimensional studio space
No doubt there's more but we hope that should do for now. Playing the record is the only way to hear all of the qualities we discuss above, and playing the best pressings against a pile of other copies under rigorously controlled conditions is the only way to find a pressing that sounds as good as this one does.
Copies with rich lower mids and nice extension up top did the best in our shootout, assuming they weren't veiled or smeary of course. So many things can go wrong on a record! We know, we've heard them all.
Top end extension is critical to the sound of the best copies. Lots of old records (and new ones) have no real top end; consequently, the studio or stage will be missing much of its natural air and space, and instruments will lack their full complement of harmonic information.
Tube smear is common to most vintage pressings and this is no exception. The copies that tend to do the best in a shootout will have the least (or none), yet are full-bodied, tubey and rich.
The Piano
If you have full-range speakers some of the qualities you may recognize in the sound of the piano are WEIGHT and WARMTH. The piano is not hard, brittle or tinkly. Instead the best copies show you a wonderfully full-bodied, warm, rich, smooth piano, one which sounds remarkably like the ones we've all heard countless times in piano bars and restaurants.
In other words like a real piano, not a recorded one. This is what we look for in a good piano recording. Bad mastering can ruin the sound, and often does, along with worn out stampers and bad vinyl and five gram needles that scrape off the high frequencies. But a few — a very few — copies survive all such hazards. They manage to reproduce the full spectrum of the piano's wide range (and of course the wonderful performance of the pianist) on vintage vinyl, showing us the kind of sound we simply cannot find any other way.
What We're Listening For on Con Alma
Energy for starters. What could be more important than the life of the music?
The Big Sound comes next — wall to wall, lots of depth, huge space, three-dimensionality, all that sort of thing.
Then transient information — fast, clear, sharp attacks, not the smear and thickness so common to these LPs.
Tight punchy bass — which ties in with good transient information, also the issue of frequency extension further down.
Next: transparency — the quality that allows you to hear deep into the soundfield, showing you the space and air around all the instruments.
Extend the top and bottom and voila, you have The Real Thing — an honest to goodness Hot Stamper.
The Players
Ray Bryant – piano

Arthur Harper, Bill Lee – bass

Mickey Roker – drums
Columbia Studio
CBS 30th Street Studio, also known as Columbia 30th Street Studio, and nicknamed "The Church", was an American recording studio operated by Columbia Records from 1949 to 1981 located at 207 East 30th Street, between Second and Third Avenues in Manhattan, New York City.
It was considered by some in the music industry to be the best sounding room in its time and others consider it to have been the greatest recording studio in history. A large number of recordings were made there in all genres, including Miles Davis' Kind of Blue (1959), Leonard Bernstein's West Side Story (Original Broadway Cast recording, 1957), Percy Faith's Theme from A Summer Place (1960), and Pink Floyd's The Wall (1979).
Recording studio
Having been a church for many years, it had been abandoned and empty for sometime, and in 1949 it was transformed into a recording studio by Columbia Records.
"There was one big room, and no other place in which to record", wrote John Marks in an article in Stereophile magazine in 2002.
The recording studio had 100 foot high ceilings, a 100 foot floorspace for the recording area, and the control room was on the second floor being only 8 by 14 feet. Later, the control room was moved down to the ground floor.
"It was huge and the room sound was incredible," recalls Jim Reeves, a sound technician who had worked in it. "I was inspired," he continues "by the fact that, aside from the artistry, how clean the audio system was."
Musical artists
Many celebrated musical artists from all genres of music used the 30th Street Studio for some of their most famous recordings.
Bach: The Goldberg Variations, the 1955 debut album of the Canadian classical pianist Glenn Gould, was recorded in the 30th Street Studio. It was an interpretation of Johann Sebastian Bach's Goldberg Variations (BWV 988), the work launched Gould's career as a renowned international pianist, and became one of the most well-known piano recordings. On May 29, 1981, a second version of the Goldberg Variations by Glenn Gould was recorded in this studio, and would be the last production by the famous studio.
Jazz trumpeter Miles Davis recorded almost exclusively at the 30th Street Studio during his years under contract to Columbia, including his album Kind of Blue (1959). Other noteworthy jazz musicians having recorded in this place: Duke Ellington, Dizzy Gillespie, Thelonious Monk, Dave Brubeck, Bob Brookmeyer, Stan Getz, et al.
In 1964, Bob Dylan and record producer Tom Wilson were experimenting with their own fusion of rock and folk music. The first unsuccessful test involved overdubbing a "Fats Domino early rock & roll thing" over Dylan's earlier, recording of "House of the Rising Sun", using non-electric instruments, according to Wilson. This took place in the Columbia 30th Street Studio in December 1964. It was quickly discarded, though Wilson would more famously use the same technique of overdubbing an electric backing track to an existing acoustic recording with Simon & Garfunkel's "The Sound of Silence."
TRACK LISTING
Side One
Con Alma
Milestones
Ill Wind
Nuts And Bolts
Side Two
Cubano Chant
'Round Midnight
Autumn Leaves
C Jam Blues
AMG  Review
… one of pianist Ray Bryant's favorite trio records. Supported by either Bill Lee or Arthur Harper on bass and drummer Mickey Roker, Bryant is typically soulful, swinging and reasonably explorative on nine songs (including a previously unreleased version of "Django") that are highlighted by "Con Alma," "Milestones," his popular "Cubano Chant" and "Autumn Leaves."
Amazon Review
Ray Bryant ranks this album, along with his Prestige/New Jazz release Alone With The Blues, as his two favorites and who could argue with him: they are both great albums. Bryant is in absolute top form on this disc, and everything works perfectly – even the sound is exceptional (the piano sound is warm and responsive). MILESTONES (everyone knows this from the famous Miles Davis recording) is similar in tempo and format to the Davis, a superb version, with excellent brush work by drummer Mickey Roker.
Additional great drumming by Roker can be heard on NUTS AND BOLTS where he interacts splendidly with the melodic line laid down by Bryant. CUBANO CHANT, taken up, is a classy, jaunty tune with a taste of Latin added. AUTUMN LEAVES gets a robust reading, a straight-ahead swinger but with Bryant playing introspectively, too. I love the big fat chords Ray lays down near the end of C JAM BLUES and the overall Erroll Garner feeling this track dishes up. In every way this is a terrific piano trio album, definitely worth having.
– Bomojaz, July 21, 2006