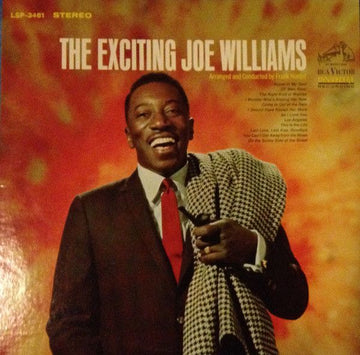 The Exciting Joe Williams returns with outstanding Double Plus (A+++) sound from first note to last and reasonably quiet vinyl for RCA Black Label original

Clean, clear and dynamic, this copy has plenty of Living Stereo Tubey Magic and lovely space around all the musicians

We have a devil of a time finding good sounding Joe Williams records – discovering that this title was so well recorded was a very pleasant surprise, and this copy takes the record close to as far as we think it can go

"Joe Williams was the last great big-band singer, a smooth baritone who graced the rejuvenated Count Basie Orchestra during the 1950s and captivated audiences well into the '90s." – All Music
This vintage RCA stereo pressing has the kind of Tubey Magical Midrange that modern records rarely begin to reproduce. Folks, that sound is gone and it sure isn't showing any sign of coming back.
Having done this for so long, we understand and appreciate that rich, full, solid, Tubey Magical sound is key to the presentation of this primarily vocal music. We rate these qualities higher than others we might be listening for (e.g., bass definition, soundstage, depth, etc.).
Hot Stamper sound is rarely about the details of a given recording. In the case of this album, more than anything else a Hot Stamper must succeed at recreating a solid, palpable, real Joe Williams singing live in your listening room. The better copies have an uncanny way of doing just that.
If you exclusively play modern repressings of vintage recordings, I can say without fear of contradiction that you have never heard this kind of sound on vinyl. Old records have it — not often, and certainly not always — but less than one out of 100 new records do, if our experience with the hundreds we've played over the years can serve as a guide.
What the best sides of The Exciting Joe Williams have to offer is not hard to hear:
Transparency and resolution, critical to hearing into the three-dimensional space of the studio

The biggest, most immediate staging in the largest acoustic space

The most Tubey Magic, without which you have almost nothing. CDs give you clean and clear. Only the best vintage vinyl pressings offer the kind of Tubey Magic that was on the tapes in 1965

Tight, note-like, rich, full-bodied bass, with the correct amount of weight down low

Natural tonality in the midrange — with all the instruments having the correct timbre
No doubt there's more but we hope that should do for now. Playing the record is the only way to hear all of the qualities we discuss above, and playing the best pressings against a pile of other copies under rigorously controlled conditions is the only way to find a pressing that sounds as good as this one does.
Copies with rich lower mids and nice extension up top did the best in our shootout, assuming they weren't veiled or smeary of course. So many things can go wrong on a record! We know, we've heard them all.
Top end extension is critical to the sound of the best copies. Lots of old records (and new ones) have no real top end; consequently, the studio or stage will be missing much of its natural air and space, and instruments will lack their full complement of harmonic information.
Tube smear is common to most vintage pressings and this is no exception. The copies that tend to do the best in a shootout will have the least (or none), yet are full-bodied, tubey and rich.
What We're Listening For on The Exciting Joe Williams
Energy for starters. What could be more important than the life of the music?
The Big Sound comes next — wall to wall, lots of depth, huge space, three-dimensionality, all that sort of thing.
Then transient information — fast, clear, sharp attacks, not the smear and thickness common to most LPs.
Tight, note-like bass with clear fingering — which ties in with good transient information, as well as the issue of frequency extension further down.
Next: transparency — the quality that allows you to hear deep into the soundfield, showing you the space and air around all the players.
Then: presence and immediacy. The vocals aren't "back there" somewhere, way behind the speakers. They're front and center where any recording engineer worth his salt would have put them.
Extend the top and bottom and voila, you have The Real Thing — an honest to goodness Hot Stamper.
Vintage Living Stereo
What do we love about LIVING STEREO pressings? The timbre of every instrument is Hi-Fi in the best sense of the word. The instruments on this vintage recording are reproduced with remarkable fidelity.
Now that's what we at Better Records mean by "Hi-Fi," not the kind of Audiophile Phony BS Sound that passes for Hi-Fidelity these days. There's no boosted top, there's no bloated bottom, there's no sucked-out midrange. There's no added digital reverb (Patricia Barber, Diana Krall, et al.). The microphones are not fifty feet away from the musicians (Water Lily) nor are they inches away (Three Blind Mice).
This is Hi-Fidelity for those who recognize The Real Thing when they hear it. I'm pretty sure our customers do, and whoever picks this one up is guaranteed to get a real kick out of it.
Here is a complete list of the Living Stereo titles we have reviewed to date, with the newest arrivals at the top of the list.
TRACK LISTING
Side One
Ol' Man River
This Is Life (From The Musical "Golden Boy")
On The Sunny Side Of The Street
Come In Out Of The Rain
You Can't Get Away From The Blues
As I Love You
Side Two
Last Love, Last Kiss, Goodbye
The Right Kind Of Woman
I Should Have Kissed Her More
I Wonder Who's Kissing Her Now
Gypsy In My Soul
Los Angeles