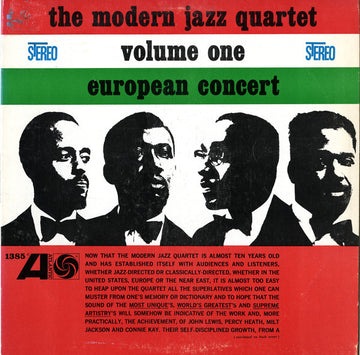 The Modern Jazz Quartet's superb live 1960 release returns on the rare Blue and Green Atlantic label

With two nearly Triple Plus (A++ to A+++) sides, this copy is close to the BEST we have ever heard, right up there with our Shootout Winner

Exceptionally spacious and three-dimensional, as well as relaxed and full-bodied – this early stereo pressing was a noticeable step up over every other copy but one

Recorded live in Sweden, this is the first of two volumes and widely considered among the group's greatest performances

5 stars: "Long considered one of, if not the classic album from the Modern Jazz Quartet, European Concert defines them simultaneously as a recording entity as well as a working band. MJQ presented jazz in the context of a formally structured environment, much like a chamber group in the classical context."
A nearly impossible record to find on the original label in audiophile playing condition, especially in stereo.
This vintage Atlantic pressing has the kind of Tubey Magical Midrange that modern records can barely BEGIN to reproduce. Folks, that sound is gone and it sure isn't showing signs of coming back. If you love hearing INTO a recording, actually being able to "see" the performers, and feeling as if you are listening live to the quartet, this is the record for you. It's what vintage all analog recordings are known for — this sound.
If you exclusively play modern repressings of vintage recordings, I can say without fear of contradiction that you have never heard this kind of sound on vinyl. Old records have it — not often, and certainly not always — but maybe one out of a hundred new records do, and those are some pretty long odds.
What Superb Sides Such as These Have to Offer Is Not Hard to Hear
The biggest, most immediate staging in the largest acoustic space

The most Tubey Magic, without which you have almost nothing. CDs give you clean and clear. Only the best vintage vinyl pressings offer the kind of Tubey Magic that was on the tapes in 1960

Tight, note-like, rich, full-bodied bass, with the correct amount of weight down low

Natural tonality in the midrange — with all the instruments having the correct timbre

Transparency and resolution, critical to hearing into the three-dimensional space of the venue
No doubt there's more but we hope that should do for now. Playing the record is the only way to hear all of the qualities we discuss above, and playing the best pressings against a pile of other copies under rigorously controlled conditions is the only way to find a pressing that sounds as good as this one does.
Copies with rich lower mids and nice extension up top did the best in our shootout, assuming they weren't veiled or smeary of course. So many things can go wrong on a record! We know, we've heard them all.
Top end extension is critical to the sound of the best copies. Lots of old records (and new ones) have no real top end; consequently, the studio or stage will be missing much of its natural air and space, and instruments will lack their full complement of harmonic information.
Tube smear is common to most vintage pressings and this is no exception. The copies that tend to do the best in a shootout will have the least (or none), yet are full-bodied, tubey and rich.
What We're Listening For on European Concert, Vol. 1
Energy for starters. What could be more important than the life of the music?
The Big Sound comes next — wall to wall, lots of depth, huge space, three-dimensionality, all that sort of thing.
Then transient information — fast, clear, sharp attacks, not the smear and thickness so common to these LPs.
Tight punchy bass — which ties in with good transient information, also the issue of frequency extension further down.
Next: transparency — the quality that allows you to hear deep into the soundfield, showing you the space and air around all the instruments.
Extend the top and bottom and voila, you have The Real Thing — an honest to goodness Hot Stamper.
The Players
Milt Jackson – vibraphone

John Lewis – piano

Percy Heath – bass

Connie Kay – drums
TRACK LISTING
Side One
Django
Bluesology
I Should Care
La Ronde
Side Two
I Remember Clifford
Festival Sketch
Vendome
Odds Against Tomorrow
AMG 5 Star Rave Review
Long considered one of, if not the classic album from the Modern Jazz Quartet, European Concert defines them simultaneously as a recording entity as well as a working band. MJQ presented jazz in the context of a formally structured environment, much like a chamber group in the classical context.
Within the band, the groove of Milt "Bags" Jackson's vibes met the solid swing of Connie Kay's drums, the funky strut of Percy Heath's bass, and the elegant classicism of John Lewis's piano. The MJQ were able, in a context that pushed at jazz's boundaries from the outside, to create a music that swung without edges or fragmented harmonic structures. Instead — as this album perhaps more than any of their studio recordings exemplifies — they used concepts of time, space, meter, rhythm, and changes to weave together a seamless whole, where melody grounded the improvisation but never really restricted it.
The kind of graceful counterpoint that exists between Lewis and Jackson here is instinctual at this time in 1960. The show included the finest moments of their early recording career in a live setting. One listen to "Django" will make your head swim, with its sparse rhythmic texture that is still driving and Lewis' rag melody line when it encounters the pure stretch of the polytonal rhythms Jackson is laying down. If it weren't for Heath the entire thing would become unglued, because he was the hinge on this set. Elsewhere on "I Should Care," Lewis brings his solo down to a rudimentary three-finger patter-without chords that takes the line apart harmonically while never straying from anything in the architecture of the tune.
Much later, on the encore "Round Midnight," MJQ take Monk's masterwork and turns it into a near rondo as time changes are constant in the first 16 bars. The front line melody blurs between Jackson and Lewis, as do harmonic counterpoint changes. While it's true this was a tune nobody should have had to change, almost everyone who covered it did. Lewis, whose playing style couldn't have been more antithetical to Monk's, quotes Monk's own solo in his and turns it into a piece of the melody near the end where Jackson is vibing chord changes and intervallic spaces. It leaves both audience and listeners breathless at the end of its all too brief three minutes and forty seconds.