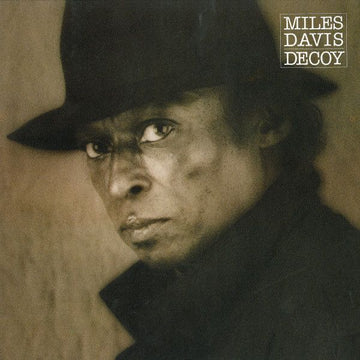 STUNNING sound throughout with both sides earning Shootout Winning Triple Plus (A+++) grades or very close to them

Fans of Bitches Brew will find much to like here, and at least in most ways, this is actually a better sounding album

Exceptionally quiet vinyl throughout — Mint Minus to Mint Minus Minus

"Mr. Davis has made tasteful creative use of synthesizers, drum machines and other modern gizmos, voicing them with saxophone, guitar and other traditional instruments without letting them dominate the music." – NY Times
This vintage Columbia pressing has the kind of Tubey Magical Midrange that modern records can barely BEGIN to reproduce. Folks, that sound is gone and it sure isn't showing signs of coming back. If you love hearing INTO a recording, actually being able to "see" the performers, and feeling as if you are sitting in the studio with the band, this is the record for you. It's what vintage all analog recordings are known for — this sound.
If you exclusively play modern repressings of vintage recordings, I can say without fear of contradiction that you have never heard this kind of sound on vinyl. Old records have it — not often, and certainly not always — but maybe one out of a hundred new records do, and those are some pretty long odds.
What amazing sides such as these have to offer is not hard to hear:
The biggest, most immediate staging in the largest acoustic space

The most Tubey Magic, without which you have almost nothing. CDs give you clean and clear. Only the best vintage vinyl pressings offer the kind of Tubey Magic that was on the tapes in 1984

Tight, note-like, rich, full-bodied bass, with the correct amount of weight down low

Natural tonality in the midrange — with all the instruments having the correct timbre

Transparency and resolution, critical to hearing into the three-dimensional studio space
No doubt there's more but we hope that should do for now. Playing the record is the only way to hear all of the qualities we discuss above, and playing the best pressings against a pile of other copies under rigorously controlled conditions is the only way to find a pressing that sounds as good as this one does.
What We Listen For on Decoy
Energy for starters. What could be more important than the life of the music?
Then: presence and immediacy. The musicians aren't "back there" somewhere, lost in the mix. They're front and center where any recording engineer worth his salt would put them.
The Big Sound comes next — wall to wall, lots of depth, huge space, three-dimensionality, all that sort of thing.
Then transient information — fast, clear, sharp attacks, not the smear and thickness so common to these LPs.
Tight punchy bass — which ties in with good transient information, also the issue of frequency extension further down.
Next: transparency — the quality that allows you to hear deep into the soundfield, showing you the space and air around all the instruments.
Extend the top and bottom and voila, you have The Real Thing — an honest to goodness Hot Stamper.
TRACK LISTING
Side One
Decoy
Robot 415
Code M.D.
Freaky Deaky
Side Two
What It Is
That's Right
That's What Happened