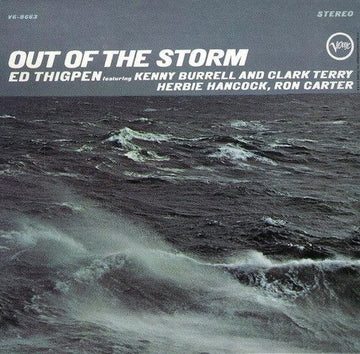 Ed Thigpen arrives on the site with this STUNNING copy of his debut album, boasting Shootout Winning Triple Plus (A+++) sound or close to it from start to finish

Lively, dynamic, transparent, spacious and musical throughout – you won't believe how good this Jazz Classic from 1966 sounds

Superb engineering by Rudy Van Gelder – Out of the Storm features jazz legends Clark Terry, Kenny Burrell, Herbie Hancock, and Ron Carter

4 stars: "Drummer Ed Thigpen's first album as a leader… Although not soloing much, Thigpen wrote three of the seven selections and occasionally played tuned drums, which sound a little bit like timbales… the performances are enjoyable."  
This vintage Verve Stereo pressing has the kind of Tubey Magical Midrange that modern records rarely even BEGIN to reproduce. Folks, that sound is gone and it sure isn't showing signs of coming back. If you love hearing INTO a recording, actually being able to "see" the performers, and feeling as if you are sitting in the studio with the band, this is the record for you. It's what vintage all analog recordings are known for — this sound.
If you exclusively play modern repressings of vintage recordings, I can say without fear of contradiction that you have never heard this kind of sound on vinyl. Old records have it — not often, and certainly not always — but maybe one out of a hundred new records do, and those are some pretty long odds.
What the best sides of Out Of The Storm have to offer is not hard to hear:
Transparency and resolution, critical to hearing into the three-dimensional space of the studio

The biggest, most immediate staging in the largest acoustic space

The most Tubey Magic, without which you have almost nothing. CDs give you clean and clear. Only the best vintage vinyl pressings offer the kind of Tubey Magic that was on the tapes in 1966

Tight, note-like, rich, full-bodied bass, with the correct amount of weight down low

Natural tonality in the midrange — with all the instruments having the correct timbre
No doubt there's more but we hope that should do for now. Playing the record is the only way to hear all of the qualities we discuss above, and playing the best pressings against a pile of other copies under rigorously controlled conditions is the only way to find a pressing that sounds as good as this one does.
Copies with rich lower mids and nice extension up top did the best in our shootout, assuming they weren't veiled or smeary of course. So many things can go wrong on a record! We know, we've heard them all.
Top end extension is critical to the sound of the best copies. Lots of old records (and new ones) have no real top end; consequently, the studio or stage will be missing much of its natural air and space, and instruments will lack their full complement of harmonic information.
Tube smear is common to most vintage pressings and this is no exception. The copies that tend to do the best in a shootout will have the least (or none), yet are full-bodied, tubey and rich.
What We're Listening For on Out Of The Storm
Energy for starters. What could be more important than the life of the music?
The Big Sound comes next — wall to wall, lots of depth, huge space, three-dimensionality, all that sort of thing.
Then transient information — fast, clear, sharp attacks, not the smear and thickness common to most LPs.
Tight, note-like bass with clear fingering — which ties in with good transient information, as well as the issue of frequency extension further down.
Next: transparency — the quality that allows you to hear deep into the soundfield, showing you the space and air around all the players.
Extend the top and bottom and voila, you have The Real Thing — an honest to goodness Hot Stamper.
The Players
Ed Thigpen – drums, voice
Clark Terry – trumpet, flugelhorn, voice
Herbie Hancock – piano
Kenny Burrell – guitar
Ron Carter – bass
TRACK LISTING
Side One
Cielito Lindo
Cloud Break (Up Blues)
Out Of The Storm
Harper (From the Warner Bros. Motion Picture "Harper")
Side Two
Elbow and Mouth
Heritage
Struttin' With Some Barbecue
AMG 4 Star Review
Drummer Ed Thigpen's first album as a leader… Although not soloing much, Thigpen wrote three of the seven selections and occasionally played tuned drums, which sound a little bit like timbales.
In addition to the leader, the main star is Clark Terry (on flugelhorn and trumpet), who plays quite freely on two numbers utilizing only a trumpet mouthpiece in spots. Guitarist Kenny Burrell gets in a few good solos and is showcased on "Struttin' With Some Barbeque" while bassist Ron Carter and pianist Herbie Hancock also make strong contributions… the performances are enjoyable.