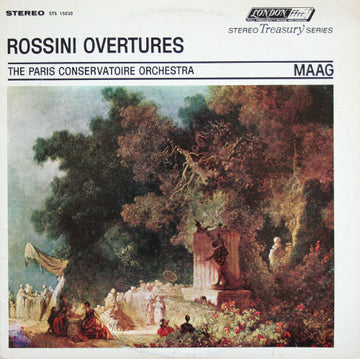 With a BETTER than Triple Plus (A+++ to A++++) side two and a side one that earned a very respectable grade of Double Plus (A++), the orchestral power of display here is positively PHENOMENAL

Wilkie's Decca Tree recording is overflowing with the kind of rich, spacious, Tubey Magical sound that can only be found on vintage vinyl

Performances and sound like no other – Maag's Rossini is in a league of its own

"You'd think Maag would approach the scores the way most conductors do: gung-ho and hell bent for leather. He doesn't. In fact, Maag displays a good deal of reserve, calculating his interpretations for the biggest payoff. For instance, in William Tell he keeps the opening sections in check, and then he builds the final segment into a most-exciting whirlwind, the conclusion carrying you away."
Please note: we award the More Than Three Plus (A++++) grade so rarely that we don't have a graphic for it in our system to use in the grading scale shown above. So the side two here shows up on the chart as A+++, but when you hear this copy you will know why we called it A+++ to A++++!
We award this copy's side two our better than Three Plus grade, which is strictly limited to pressings (really, individual sides of pressings) that take a recording to a level never experienced by us before, a level we had no idea even existed. We estimate that about one per cent of the Hot Stamper pressings we come across in our shootouts earn this grade. You can't get much more rare than that.
The reason we called side two More Than Three Pluses is that of the eight or so copies we had in our shootout, no other copy on either side sounded as good as side two of this copy. We play a lot of classical records around here and this one really stood out from the pack as a true One Percenter.
Maag breathes life into these works as only he can and the Decca engineering team led by Kenneth Wilkinson do him proud.
Everyone needs a good Rossini Overtures – the music is exciting and fun, not to mention Demonstration Quality on a pressing such as this. The combination of sound and performance on the best of the Maag-led Londons could not be equaled. Gamba on London was much too sleepy for our tastes, and the famous Reiner on RCA left a lot to be desired. It's mid-hall perspective and dynamic compression took all the fun out of this music. After hearing the killer Maag pressings, nothing else would do!
Note that the orchestra is none other than the Paris Conservatoire, whose playing of the famously demanding Stravinsky Rite of Spring, under Monteux (LSC 2085), is absolutely stunning as well. (more…)