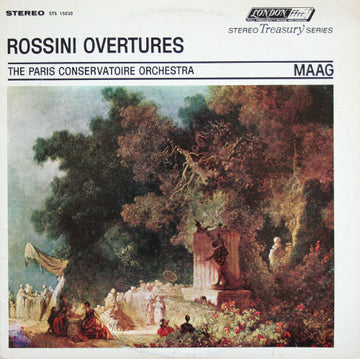 With a BETTER than Triple Plus (A+++ to A++++) side two and a side one that earned a very respectable grade of Double Plus (A++), the orchestral power of display here is positively PHENOMENAL

Wilkie's Decca Tree recording is overflowing with the kind of rich, spacious, Tubey Magical sound that can only be found on vintage vinyl

Performances and sound like no other – Maag's Rossini is in a league of its own

"You'd think Maag would approach the scores the way most conductors do: gung-ho and hell bent for leather. He doesn't. In fact, Maag displays a good deal of reserve, calculating his interpretations for the biggest payoff. For instance, in William Tell he keeps the opening sections in check, and then he builds the final segment into a most-exciting whirlwind, the conclusion carrying you away."
Please note: we award the More Than Three Plus (A++++) grade so rarely that we don't have a graphic for it in our system to use in the grading scale shown above. So the side two here shows up on the chart as A+++, but when you hear this copy you will know why we called it A+++ to A++++!
We award this copy's side two our better than Three Plus grade, which is strictly limited to pressings (really, individual sides of pressings) that take a recording to a level never experienced by us before, a level we had no idea even existed. We estimate that about one per cent of the Hot Stamper pressings we come across in our shootouts earn this grade. You can't get much more rare than that.
The reason we called side two More Than Three Pluses is that of the eight or so copies we had in our shootout, no other copy on either side sounded as good as side two of this copy. We play a lot of classical records around here and this one really stood out from the pack as a true One Percenter.
Maag breathes life into these works as only he can and the Decca engineering team led by Kenneth Wilkinson do him proud.
Everyone needs a good Rossini Overtures – the music is exciting and fun, not to mention Demonstration Quality on a pressing such as this. The combination of sound and performance on the best of the Maag-led Londons could not be equaled. Gamba on London was much too sleepy for our tastes, and the famous Reiner on RCA left a lot to be desired. It's mid-hall perspective and dynamic compression took all the fun out of this music. After hearing the killer Maag pressings, nothing else would do!
Note that the orchestra is none other than the Paris Conservatoire, whose playing of the famously demanding Stravinsky Rite of Spring, under Monteux (LSC 2085), is absolutely stunning as well.
What Amazing Sides Such as These Have to Offer Is Not Hard to Hear
The biggest, most immediate staging in the largest acoustic space

The most Tubey Magic, without which you have almost nothing. CDs give you clean and clear. Only the best vintage vinyl pressings offer the kind of Tubey Magic that was on the tapes in 1958

Tight, note-like, rich, full-bodied bass, with the correct amount of weight down low

Natural tonality in the midrange — with all the instruments having the correct timbre

Transparency and resolution, critical to hearing into the three-dimensional studio space
No doubt there's more but we hope that should do for now. Playing the record is the only way to hear all of the qualities we discuss above, and playing the best pressings against a pile of other copies under rigorously controlled conditions is the only way to find a pressing that sounds as good as this one does.
Side Two
Tonally right on the money, with rich, powerful brass, in the best Decca tradition.
No other copy had the size, space, clarity and resolution of this side two. Simply put, it's off the charts.
Our original pressings had more Tubey Magic but this reissue sounded more accurate, less colored, and even more like live music than we thought was possible from this 1958 recording.
Side One
Very rich and tubey strings and brass, with lovely space. This side sounds very much like a good original pressing.
Play side two of this record to hear what we think the reissue does better than even the best early pressing.
I wouldn't want to be without a great William Tell in my collection though, and this one has the best combination of performance and sound we know of.
String Tone
The rich, textured, rosin-on-the-bow lower strings on this record are to die for. Find me a modern record that sounds like this and I will eat it. And by "modern record" we hasten to include both modern recordings and modern remasterings of older recordings. NO ONE alive today can make a record that sound even remotely as good as this. To call it a lost art is to understand something that few vinyl-loving audiophiles appear to have grasped since the advent of the Modern Reissue, which is simply this: they can't begin to compete.
After twenty years of trying and literally hundreds of failed examples the engineers of today have yet to make a record that sounds as powerful and life-like as this London from almost fifty years ago.
Fortunately for the both of us we are not trying to make a record that sounds the way this one does. We're just trying to find one, and folks, we found the hell out of this one.
What We're Listening For on Rossini Overtures
Energy for starters. What could be more important than the life of the music?
The Big Sound comes next — wall to wall, lots of depth, huge space, three-dimensionality, all that sort of thing.
Then transient information — fast, clear, sharp attacks, not the smear and thickness so common to these LPs.
Tight punchy bass — which ties in with good transient information, also the issue of frequency extension further down.
Next: transparency — the quality that allows you to hear deep into the soundfield, showing you the space and air around all the instruments.
Extend the top and bottom and voila, you have The Real Thing — an honest to goodness Hot Stamper.
Vintage Recordings – What to Listen For
Top end extension is critical to the sound of the best copies. Lots of old records (and new ones) have no real top end; consequently, the studio or stage will be missing much of its natural air and space, and instruments (especially the guitar and percussion) will lack the full complement of harmonic information of which they are capable.
Tube smear is common to most pressings from the late '50s and early '60s. The copies that tend to do the best in a shootout will have the least (or none), yet are full-bodied, tubey and rich.
Table Setup
This is an excellent record for adjusting tracking weight, VTA, azimuth and the like. Classical music is really the ultimate test for proper turntable/arm/cartridge setup (and evaluation). A huge and powerful recording such as this quickly separates the men from the boys stereo-wise. Recordings of this quality are the reason there are $10,000+ front ends in the first place. You don't need to spend that kind of money to play this record, but if you do, this is the record that will show you what you got for your hard-earned dough.
Ideally, you would want to work your setup magic at home with this record, then take it to a friend's house and see if you can achieve the same results on his system. I've done this sort of thing for years. (Sadly, not so much anymore; nobody I know can play records like these the way we can. Playing and critically evaluating records all day, every day, year after year, you get pretty good at it. And the more you do it, the easier it gets.)
Properly set VTA is especially critical on this record, as it is on most classical recordings. The smallest change will dramatically affect the timbre, texture and harmonic information of the strings, as well as the other instruments of the orchestra.
TRACK LISTING
Side One
William Tell Overture
Cinderella Overture
Side Two
Semiramide Overture
The Thieving Magpie Overture
Classical Candor Review
The contents of the original LP were always rather meager: a scant four overtures, about forty-two minutes total. But it was never the quantity that counted but the quality, and these interpretations were, and still are, among the best you will find.
Things begin with Semiramide (1823), followed by Guillaume Tell (William Tell, 1829), La gazza ladra (The Thieving Magpie, 1817), and La Cenerentola (Cinderella, 1817).
Now, you'd think Maag and his Paris Orchestra would approach the scores the way most conductors do: gung-ho and hell bent for leather. He doesn't. In fact, Maag displays a good deal of reserve, calculating his interpretations for the biggest payoff.
For instance, in William Tell he keeps the opening sections in check, and then he builds the final segment into a most-exciting whirlwind, the conclusion carrying you away. Or in La Cenerentola after a few minutes of careful introduction, he takes you off to the races, almost leaving you breathless. And so it goes.
Wikipedia