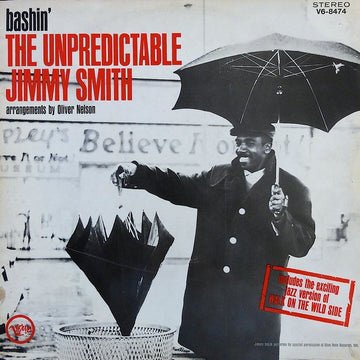 An outstanding copy of this Big Band Jazz classic led by Jimmy Smith with solid Double Plus (A++) sound or BETTER throughout

If you own only one Jimmy Smith album, make it this one – with Oliver Nelson's arrangements ferociously blasting away, at good loud levels the first side here has the power to swing like you will not believe

5 stars: "On the first half of the program, Smith was for the first time joined by a big band. Oliver Nelson provided the arrangements, trumpeter Joe Newman and altoist Phil Woods have a solo apiece, and "Walk on the Wild Side" became Smith's biggest hit up to that point."
*NOTE On side one, a mark makes very light intermittent ticks through Track 3, Should I Stay or Should I Go.
This is tube mastering at its finest. Not many vintage tube-mastered records manage to balance all the sonic elements as correctly as this copy does.
For us audiophiles both the sound and the music here are enchanting. If you're looking to demonstrate just how good 1962 All Tube Analog sound can be, this killer copy will do the trick.
This pressing is super spacious, sweet and positively dripping with ambience. Talk about Tubey Magic, the liquidity of the sound here is positively uncanny. This is vintage analog at its best, so full-bodied and relaxed you'll wonder how it ever came to be that anyone seriously contemplated trying to improve it.
This IS the sound of Tubey Magic. No recordings will ever be made like this again, and no CD will ever capture what is in the grooves of this record. There may well be a CD of this album, but those of us in possession of a working turntable and a good collection of vintage vinyl could care less.
What the Best Sides of Bashin' Have to Offer Is Not Hard to Hear
The biggest, most immediate staging in the largest acoustic space

The most Tubey Magic, without which you have almost nothing. CDs give you clean and clear. Only the best vintage vinyl pressings offer the kind of Tubey Magic that was on the tapes in 1962

Tight, note-like, rich, full-bodied bass, with the correct amount of weight down low

Natural tonality in the midrange — with all the instruments having the correct timbre

Transparency and resolution, critical to hearing into the three-dimensional studio space
No doubt there's more but we hope that should do for now. Playing the record is the only way to hear all of the qualities we discuss above, and playing the best pressings against a pile of other copies under rigorously controlled conditions is the only way to find a pressing that sounds as good as this one does.
In the past we've complained about "Rudy Van Gelder's somewhat over the top echo-drenched brass," but on a killer copy such as this there is nothing to complain about. If you have a top quality front end (and the system that goes with it), this recording will be amazingly spacious, three-dimensional, transparent, dynamic, energetic, and open.
A Big Group of Musicians Needs This Kind of Space
One of the qualities that we don't talk about on the site nearly enough is the SIZE of the record's presentation. Some copies of the album just sound small — they don't extend all the way to the outside edges of the speakers, and they don't seem to take up all the space from the floor to the ceiling. In addition, the sound can often be recessed, with a lack of presence and immediacy in the center.
Other copies — my notes for these copies often read "BIG and BOLD" — create a huge soundfield, with the music positively jumping out of the speakers. They're not brighter, they're not more aggressive, they're not hyped-up in any way, they're just bigger and clearer.
And most of the time those very special pressings are just plain more involving. When you hear a copy that does all that — a copy like this one — it's an entirely different listening experience.
What We're Listening For on Bashin'
Energy for starters. What could be more important than the life of the music?
The Big Sound comes next — wall to wall, lots of depth, huge space, three-dimensionality, all that sort of thing.
Then transient information — fast, clear, sharp attacks, not the smear and thickness so common to these LPs.
Tight punchy bass — which ties in with good transient information, also the issue of frequency extension further down.
Next: transparency — the quality that allows you to hear deep into the soundfield, showing you the space and air around all the instruments.
Extend the top and bottom and voila, you have The Real Thing — an honest to goodness Hot Stamper.
More of What to Listen For
On side one, the bell tree in the right channel on track one is a great test for top end extension, resolution of harmonic complexity, overall clarity and freedom from smear.
Get all the top end you can from whatever turntable adjustment, tweak or room treatment you're messing around with, then check to make sure that all the brass instruments still sound right. If they do you are good to go.
Copies of this album are sometimes so SOUR or dull (or both) that they go right in the trade pile. Add to that the difficulty of finding copies that are scratch-free and not too noisy and you have one tough shootout ahead of you.
Inner Groove Distortion caused by the non-anti-skate-equipped turntables of the day is a chronic problem with vintage jazz records. We check all our records for Inner Groove Damage (IGD) as a matter of course when condition checking the surface quality of the vinyl. 
A Must Own Jazz Record
We consider this Wes Montgomery album his Masterpiece.
It's a recording that should be part of any serious Jazz Collection. Others that belong in that category can be found here.
It also ranks very high on our Difficulty of Reproduction Scale. Do not attempt to play it using anything other than the highest quality equipment.
TRACK LISTING
Side One
Walk on the Wild Side 
Ol' Man River 
In a Mellow Tone 
Step Right Up
Side Two
Beggar for the Blues 
Bashin' 
I'm an Old Cowhand (From the Rio Grande)
AMG 5 Star Rave Review
Although still a regular Blue Note artist (he would make four more albums for the company within the next year), Bashin' was organist Jimmy Smith's debut for Verve, a label that he would record extensively for during 1963-1972. On the first half of the program, Smith was for the first time joined by a big band. Oliver Nelson provided the arrangements, trumpeter Joe Newman and altoist Phil Woods have a solo apiece, and "Walk on the Wild Side" became Smith's biggest hit up to that point. The final three numbers feature Smith's regular trio with guitarist Quentin Warren and drummer Donald Bailey swinging with soul as usual.