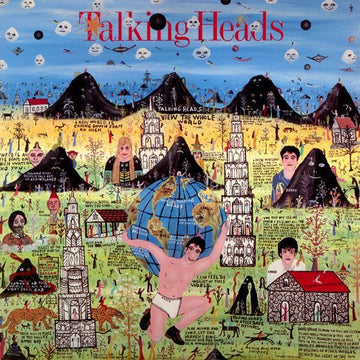 An outstanding pressing of Little Creatures with solid Double Plus (A++) sound or BETTER from start to finish – this one has the BIG BEAT sound we love

I ask you, what record from 1985 sounds better than Little Creatures?

These sides are rockin' on tracks like Stay Up Late, Road To Nowhere, And She Was, Creatures of Love and more

Surprisingly big, punchy and open sound for this '85 pop classic – a Top 100 album and longtime Better Records favorite

4 1/2 stars: "Ear Candy …a pop album, and an accomplished one, by a band that knew what it was doing."
We're huge fans of Little Creatures, and when you hear a copy like this you'll know exactly why. Not many records from this era sound as amazingly rich as this one, not in our experience anyway.
On the better copies, the sound is punchy, smooth & so ANALOG, with an especially beefy bottom end, the kind a good Big Beat Pop Album record needs. For a good reference think Get The Knack or Parallel Lines.
Tight, punchy, surprisingly deep note-like bass absolutely makes or breaks the sound on Little Creatures. Without the proper bass foundation this funky beat-crazy Talking Heads album can't BEGIN to do what it's trying to do: get your feet tappin' and your body rockin' to the music.
The better pressings are surprisingly dynamic, with a sweet, often silky top end. The drums are very well recorded throughout — you can really hear the room around that big kit. You will also find that the higher-rez pressings give David Byrne's vocals the presence and breathy texture they need. The overall sound will be open, spacious, and sweet — even three-dimensional.
What the best sides of Little Creatures have to offer is not hard to hear
The biggest, most immediate staging in the largest acoustic space

The most Tubey Magic, without which you have almost nothing. CDs give you clean and clear. Only the best vintage vinyl pressings offer the kind of Tubey Magic that was on the tapes even as late as 1985

Tight, note-like, rich, full-bodied bass, with the correct amount of weight down low

Natural tonality in the midrange — with all the instruments having the correct timbre

Transparency and resolution, critical to hearing into the three-dimensional studio space
No doubt there's more but we hope that should do for now. Playing the record is the only way to hear all of the qualities we discuss above, and playing the best pressings against a pile of other copies under rigorously controlled conditions is the only way to find a pressing that sounds as good as this one does.
Mastering and Pressing
You would never know how good this album can sound by playing the average pressing you might pick up for five bucks at your local used record store. The typical copy of this record is pretty average sounding – smeary, a bit grainy, lacking in richness and weight, with no real top end.
Let's face it: Every mastering mistake that can be made will be made sooner or later with mass-produced domestic vinyl like this. There's no getting around some copies just weren't pressed properly, or the vinyl was bad that day, or who knows what else might have gone wrong.
We try and find the copies with the least number of problems, the copies that sound the most like Master Tapes and the least like Old Records.
What We're Listening For on Little Creatures
Energy for starters. What could be more important than the life of the music?
Then: presence and immediacy. The vocals aren't "back there" somewhere, lost in the mix. They're front and center where any recording engineer worth his salt would put them.
The Big Sound comes next — wall to wall, lots of depth, huge space, three-dimensionality, all that sort of thing.
Then transient information — fast, clear, sharp attacks, not the smear and thickness so common to these LPs.
Tight punchy bass — which ties in with good transient information, also the issue of frequency extension further down.
Next: transparency — the quality that allows you to hear deep into the soundfield, showing you the space and air around all the instruments.
Extend the top and bottom and voila, you have The Real Thing — an honest to goodness Hot Stamper.
The Last Great Talking Heads Album
This is the Last Great Talking Heads album. The first four and this one give you all the Talking Heads music you'll ever need. Each of them is brilliant in its own way.
One of the ways this one is especially brilliant from our admittedly skewed point of vies is that it's the best sounding record the Talking Heads ever made.
TRACK LISTING
Side One
Give Me Back My Name
Creatures of Love
The Lady Don't Mind
Perfect World
Side Two
Stay up Late
Walk It Down
Television Man
Road to Nowhere
AMG 4 1/2 Star Rave Review
Talking Heads' most immediately accessible album, Little Creatures eschewed the pattern of recent Heads albums, in which instrumental tracks had been worked up from riffs and grooves, after which David Byrne improvised melodies and lyrics. The songs on Little Creatures, most of which were credited to Byrne alone (with the band credited only with arrangements) sounded like they'd been written as songs. Perhaps as one result, the band had been streamlined, with extra musicians used only for specific effects rather than playing along as an ensemble.
Byrne, who was singing in his natural range for once, frequently was augmented with backup singers. The overall result: ear candy. Little Creatures was a pop album, and an accomplished one, by a band that knew what it was doing.
Robert Christgau
As I assume you've figured out, this return to basics isn't exactly Talking Heads '77. What the relatively straight and spare approach signifies is that their expansive '80s humanism doesn't necessarily require pluralistic backup or polyrhythmic underpinnings. It affirms that compassionate grown-ups can rock and roll. The music is rich in hidden treasures the way their punk-era stuff never was, and though the lyrics aren't always crystalline, their mysteries seem more like poetry than obscurantism this time out. Anyway, most of the time their resolute happiness and honest anger are right there, and in "Stay Up Late" they come up with a baby song that surpasses "Willie and the Hand Jive" itself. Grade: A