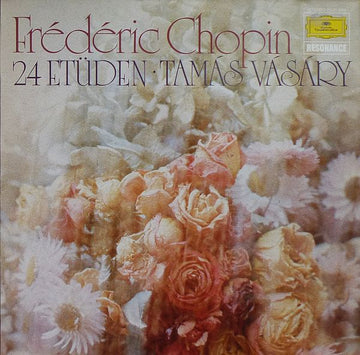 This stunning album of some of Chopin's greatest piano pieces has superb sound, boasting a Shootout Winning Triple Plus (A+++) side two mated to an outstanding Double Plus (A++) side one

This magnificent sounding (and surprisingly hard to find) pressing is yet another example of a classical "sleeper," one that can hold its own with practically any solo piano recording you have ever heard

As expected, Vasary performs with consummate skill, bringing out nuances in the work that may have escaped others – the results are captivating

"… an extraordinarily impassioned work, belying its technical utility."
*CONDITION NOTES:
On side two, a mark makes 15 light ticks half way through Track 8, Nr. 8 Des-dur. Vivace.
Sometimes the copy with the best sound is not the copy with the quietest vinyl. The best sounding copy is always going to win the shootout, the condition of its vinyl notwithstanding. If you can tolerate the problems on this pressing you are in for some amazing music and sound. If for any reason you are not happy with the sound or condition of the album we are of course happy to take it back for a full refund, including the domestic return postage.
---
 I had wanted to do big shootout for this title from the moment I heard a killer copy that a friend sold to me. You will have a hard time finding a better sounding solo piano records, I can tell you that.
I managed to get a couple more copies, but then my luck ran out. For more than a year I could not find the record at a good price — one has to assume that at least some of the copies will not sound good enough to sell and will end up being total losses — and some came in too noisy.
Eventually I gave up and just played the three or four I had.
Here we present the winner! Absolutely amazing piano reproduction.
This vintage Deutsche Grammophon pressing has the kind of Tubey Magical Midrange that modern records can barely BEGIN to reproduce. Folks, that sound is gone and it sure isn't showing signs of coming back. If you love hearing INTO a recording, actually being able to "see" the performers, and feeling as if you are sitting in the studio with the band, this is the record for you. It's what vintage all analog recordings are known for — this sound.
If you exclusively play modern repressings of vintage recordings, I can say without fear of contradiction that you have never heard this kind of sound on vinyl. Old records have it — not often, and certainly not always — but maybe one out of a hundred new records do, and those are some pretty long odds.
What the best sides of this wonderful piano classic have to offer is not hard to hear:
The biggest, most immediate staging in the largest acoustic space

The most Tubey Magic, without which you have almost nothing. CDs give you clean and clear. Only the best vintage vinyl pressings offer the kind of Tubey Magic that was on the tapes in 1965

Tight, note-like, rich, full-bodied bass, with the correct amount of weight down low

Natural tonality in the midrange — with all the instruments having the correct timbre

Transparency and resolution, critical to hearing into the three-dimensional studio space
No doubt there's more but we hope that should do for now. Playing the record is the only way to hear all of the qualities we discuss above, and playing the best pressings against a pile of other copies under rigorously controlled conditions is the only way to find a pressing that sounds as good as this one does.
The Piano
If you have full-range speakers some of the qualities you may recognize in the sound of the piano are WEIGHT and WARMTH. The piano is not hard, brittle or tinkly. Instead, the best copies show you a wonderfully full-bodied, warm, rich, smooth piano, one which sounds remarkably like the ones we've all heard countless times in piano bars and restaurants.
In other words like a real piano, not a recorded one. This is what we look for in a good piano recording. Bad mastering can ruin the sound, and often does, along with worn out stampers and bad vinyl and five gram needles that scrape off the high frequencies. But a few — a very few — copies survive all such hazards. They manage to reproduce the full spectrum of the piano's wide range (and of course the wonderful performance of the pianist) on vintage vinyl, showing us the kind of sound we simply cannot find any other way.
What We're Listening For on Chopin Etudes Op. 10 & Op. 25
Energy for starters. What could be more important than the life of the music?
The Big Sound comes next — wall to wall, lots of depth, huge space, three-dimensionality, all that sort of thing.
Then transient information — fast, clear, sharp attacks, not the smear and thickness so common to these LPs.
Tight punchy bass — which ties in with good transient information, also the issue of frequency extension further down.
Next: transparency — the quality that allows you to hear deep into the soundfield, showing you the space and air around all the instruments.
Extend the top and bottom and voila, you have The Real Thing — an honest to goodness Hot Stamper.
TRACK LISTING
Side One
Nr. 1 C-dur. Allegro
Nr. 2 A-moll. Allegro
Nr. 3 E-dur. Lento, Ma Non Troppo
Nr. 4 Cis-moll. Presto
Nr.5 Ges-dur. Vivace
Nr. 6 Es-moll. Andante
Nr. 7 C-dur. Vivace
Nr. 8 F-dur. Allegro
Nr. 9 F-moll. Allegro, Molto Agitato
Nr. 10 As-dur. Vivace Assai
Nr. 11 Es-dur. Allegretto
Nr. 12 C-moll. Allegro Con Fuoco
Side Two
Nr. 1 As-dur. Allegro Sostenuto
Nr. 2 F-moll. Presto
Nr. 3 F-dur. Allegro
Nr. 4 A-moll. Agitato
Nr. 5 E-moll. Vivace
Nr. 6 Gis-moll. Allegro
Nr. 7 Cis-moll. Lento
Nr. 8 Des-dur. Vivace
Nr. 9 Ges-dur. Allegro Assai
Nr. 10 B-moll. Allegro Con Fuoco
Nr. 11 A-moll. Lento – Allegro Con Brio
Nr. 12 C-moll. Allegro Molto E Con Fuoco
Op. 10
Description by Steven Coburn, Allmusic
Before Chopin, there was a tradition of writing studies for the development of keyboard technique, but the pieces were primarily didactic. This set of 12 Études, dedicated to Liszt, represents a new form: concert pieces that serve a secondary function as development of advanced piano skills. Each étude begins with a pattern of pianistic figuration, which creates the specific technical problem for the étude and persists for the duration of the piece. That Chopin was able to create poetry in spite of such controlled and limited means of expression is a testament to his creative genius.
No. 1, in C major is nothing more than a series of wide-spanning arpeggios, expanding and contracting the right-hand, set over a simple sustained bass. It is a work of majestic beauty in spite of the simplicity of means.
No. 2, in A minor is a somewhat dry work, which exercises the last three fingers of the right hand. Rapid chromatic scales run up and down the keyboard to the accompaniment of detached chords. It is extraordinarily difficult to play smoothly.
With a beautifully lyrical melody, set rather simply, Étude No. 3, in E major, is contrasted with a more agitated middle section. The ability to differentiate melody from accompaniment in a single hand is exercised here. One of the easier études, Chopin thought this his finest melody.
Strong and independent fingers are required for the toccata-like Étude No. 4, in C sharp minor. Rapid passages alternate between the hands, creating an exciting, whirlwind effect. It is less difficult than it sounds.
The popular nickname for Étude No. 5, in G flat major, "Black Key," refers to the right-hand playing exclusively on the black keys. The mood is light and brilliant, created by rapid figuration over a chordal accompaniment. A strong and flexible rotation technique is required.
Étude No. 6, in E flat minor, is the easiest of the set, similar in technical requirements to No. 3. The mood is somber and plaintive, and there is no contrasting middle section.
The Étude No. 7, in C major, is a study in double notes. The right hand alternates rapidly between thirds and sixths, while the left hand carries the melody and bass. Musically a little insubstantial, it is valuable for the development of proper wrist and arm technique.
Étude No. 8, in F major, is a study in right-hand arpeggios and passagework. The left hand plays a somewhat jaunty melody while the right hand sweeps up and down the keyboard. Technically, it is similar in requirements to No. 4, but the wider range of the arpeggiation makes a legato execution more difficult.
Widely spaced figurations in the left hand of the ninth étude in F minor present the principal technical problems here. A breathless and passionate melody in the right hand propels the étude to a quietly effective ending. This is one of the easier études of the set.
A variety of technical problems are addressed in Étude No. 10, in A flat major: broken-chord rotation technique in the right hand, large skips and arpeggiation in the left hand, and differentiation of attack for both hands. Chopin basically presents a single idea repeated in a wide variety of articulations and phrasings. This étude is as ingenious as it is difficult.
Really nothing more than a chorale, the 11th étude in E flat major is a study in broken or arpeggiated chords. The difficulty lies in the wide span of the chords and in the tonal differentiation of the melody.
There is an apocryphal story that has Chopin writing his Étude No. 12, in C minor, "Revolutionary," as a reaction to the burning of Warsaw in 1831. True or not, it is an extraordinarily impassioned work, belying its technical utility. Here, the requirements of No. 8 are reversed — the left hand provides the sweeping arpeggios and passagework while the right hand plays the heroic melody in octaves and chords.
Op. 25
Description by Robert Cummings, Allmusic
The Op. 10 Études were composed in the period 1829-1832 and dedicated to Franz Liszt. This Op. 25 collection bears a dedication to Liszt's mistress, Countess Marie d'Agoult, a writer who used the pseudonym Daniel Stern. One reason Chopin attempted to capture Liszt's sympathies with the dedications had to do with the performance design of the pieces in the two sets: each was written to highlight some facet of pianism. For example, in the Op. 25 collection, No. 2, in F minor, is a study in cross rhythms, while No. 10, in B minor, is a study in legato octaves.
The first item in the Op. 25 set is nicknamed the "Aeolian Harp," owing to its soft and graceful arpeggios. The piece is lively and full of color, but slightly wistful in its dark gentleness. The second étude, mentioned above, sounds gossamer and utterly enchanting as the pianist's fingers glide along the keyboard to produce a busy yet elegant cascade of running notes. The third piece, in F major, gallops along with a theme that strikes the ear as the perfect mixture of joy and confidence.
The next three études all offer virtuosic challenges of substantial proportion — not that the others do not. The first of this trio, in A minor, hustles along and presents contrasts between legato and staccato. It has been linked to the virtuosity of the legendary violinist Paganini. The next, in E minor, is playful and has been called Lisztian, not simply because of its pianistic challenges but also because of its impish, devilish character. The last of this threesome, in G sharp minor, presents difficulties in its right-hand thirds. Its delicate sonorities and effervescent sprays of notes simply beguile the ear.
No. 7, in C sharp minor, is lyrical, and is by far the longest étude in either set, lasting around six minutes. Its expressive range and focus are probably greater than those in any of its companion pieces; most of its music is deeper, and its mood is sorrowful. The eighth étude, in D flat major, is joyous in its study of sixths, while the ensuing G flat piece, of similar mood, is more buoyant; the soloist is challenged once more in rendering the piece's divided octaves. This feature of octaves has been mentioned above in relation to the furious No. 10, whose lovely middle section provides wonderful contrast to the insistent rage of the main theme.
The 11th entry here, in A minor, is the famous "Winter Wind" Etude. Its proud theme evokes a wintry scene, with the busy right hand providing swirls of notes that seem to incarnate an angry wind. The last item in the set, in C minor, is a study in arpeggios. The mood is somber and agitated, and there is resemblance throughout to the first étude of the Op. 10 set.