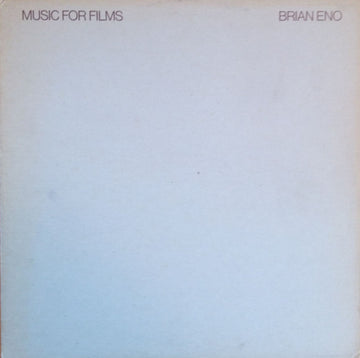 Music for Films makes its Hot Stamper debut here with Shootout Winning Triple Plus (A+++) sound or close to it throughout

Rich, smooth, tonally correct, spacious, this collection of recordings made between 1975 and 1978 was compiled and transferred with consummate skill, ensuring that the highest fidelity was maintained

We bought quite a few of these experimental albums, but condition problems forced us to give up on the project – this is one of the few copies we found in audiophile playing condition

"It is a conceptual work intended as a soundtrack for imaginary films, although many of the pieces had already appeared in actual films."

5 stars: "…it is essential Eno, and a landmark collection drawn from among his work."
*NOTE: On side two, Track 1, Quartz, plays Mint Minus to EX++.
This vintage Polydor pressing has the kind of Tubey Magical Midrange that modern records can barely BEGIN to reproduce. Folks, that sound is gone and it sure isn't showing signs of coming back. If you love hearing INTO a recording, actually being able to "see" the performers, and feeling as if you are sitting in the studio with the band, this is the record for you. It's what vintage all analog recordings are known for — this sound.
If you exclusively play modern repressings of vintage recordings, I can say without fear of contradiction that you have never heard this kind of sound on vinyl. Old records have it — not often, and certainly not always — but maybe one out of a hundred new records do, and those are some pretty long odds.
What the best sides of Music for Films have to offer is not hard to hear:
The biggest, most immediate staging in the largest acoustic space

The most Tubey Magic, without which you have almost nothing. CDs give you clean and clear. Only the best vintage vinyl pressings offer the kind of Tubey Magic that was on the tapes in 1978

Tight, note-like, rich, full-bodied bass, with the correct amount of weight down low

Natural tonality in the midrange — with all the instruments having the correct timbre

Transparency and resolution, critical to hearing into the three-dimensional studio space
No doubt there's more but we hope that should do for now. Playing the record is the only way to hear all of the qualities we discuss above, and playing the best pressings against a pile of other copies under rigorously controlled conditions is the only way to find a pressing that sounds as good as this one does.
What We're Listening For on Music for Films
Energy for starters. What could be more important than the life of the music?
The Big Sound comes next — wall to wall, lots of depth, huge space, three-dimensionality, all that sort of thing.
Then transient information — fast, clear, sharp attacks, not the smear and thickness so common to these LPs.
Tight punchy bass — which ties in with good transient information, also the issue of frequency extension further down.
Next: transparency — the quality that allows you to hear deep into the soundfield, showing you the space and air around all the instruments.
Extend the top and bottom and voila, you have The Real Thing — an honest to goodness Hot Stamper.
The Players
Rhett Davies – trumpet on "Strange Light", assistant producer

John Cale – viola on "Patrolling Wire Borders"

Phil Collins – percussion

Robert Fripp – electric guitar on "Slow Water"

Fred Frith – electric guitar

Percy Jones – bass guitar

Bill MacCormick – bass guitar on "Two Rapid Formations"

Dave Mattacks – percussion on "Two Rapid Formations"

Paul Rudolph – guitar

Rod Melvin – electric piano

Ritva Saarikko – cover photograph
TRACK LISTING
Side One
M386
Aragon
From The Same Hill
Inland Sea
Two Rapid Formations
Slow Water
Sparrowfall (1)
Sparrowfall (2)
Sparrowfall (3)
Side Two
Quartz
Events In Dense Fog
'There Is Nobody'
A Measured Room
Patrolling Wire Borders
Task Force
Alternative 3
Strange Light
Final Sunset
AMG 5 Star Rave Review
The basic core of tracks making up Brian Eno's Music for Films was originally assembled in 1976 for inclusion in a promotional LP of prospective cues sent to film directors. In early 1978, a bit before Music for Airports, Editions EG released Music for Films with little more than Eno's cryptic comment: "some of it was made specifically for soundtrack material, (and) some of it was made for other reasons but found its way into films."
As with most things Eno, this led to a good deal of speculation and controversy. One filmmaker long ago stated, "All of that is crap — this music was never used in any films," and another film student who had tried out some of the cues: "this is the worst music for films ever. These cues don't synch to anything." However, the second filmmaker unintentionally discovered the essence of Music for Films — the 18 pieces here are little films, stimulating the visual part of one's brain and thus fulfilling their promotional purpose. In that sense, Music for Films was revolutionary in 1978.
Eno's analog music definitely benefits from presentation in the digital domain… The mid-'70s were still a rather angry period in electronic music at the academic level. Eno's approach differed significantly from both that, and from others, in that his music was not pop-oriented either. Music for Films is the unrecognized link between Discreet Music and Music for Airports — it is essential Eno, and a landmark collection drawn from among his work.
Background
Music for Films is the seventh solo studio album by British musician Brian Eno. It is a conceptual work intended as a soundtrack for imaginary films, although many of the pieces had already appeared in actual films.
The album is a loose compilation of material from the period 1975 to 1978, composed of short tracks ranging from one-and-a-half minutes to just over four, making it the antithesis of the long, sprawling, ambient pieces he later became known for. The compositional styles and equipment used also carried over onto Eno's work on some of David Bowie's 1977 album Low.
Unlike Eno's later ambient works, Music for Films utilises a broader sonic palette, with Eno's synthesizers and "found sounds" being supplemented by standard studio instrumentation played by other musicians (see Credits).
-Wikipedia