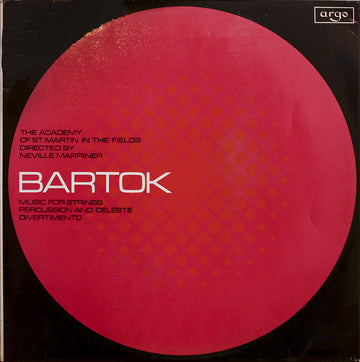 This wonderful Decca Argo release makes its Hot Stamper debut here with Nearly Triple Plus (A++ to A+++) sound on both sides – just shy of our Shootout Winner

We surveyed a large group of pressings containing this work, and in the end Marriner's reading from 1970 had the best sound and the best performance of any we played

Wonderfully textured string tone and huge hall space extending wall to wall and floor to ceiling – everything you want in a top quality orchestral recording is here, and more

To keep beating a horse that has been dead for years, this is precisely the sound that the modern reissue fails to reproduce well

"… one of the best-known compositions by the Hungarian composer Béla Bartók."
This vintage Argo pressing has the kind of Tubey Magical Midrange that modern records can barely BEGIN to reproduce. Folks, that sound is gone and it sure isn't showing signs of coming back. If you love hearing INTO a recording, actually being able to "see" the performers, and feeling as if you are sitting in the studio with the band, this is the record for you. It's what vintage all analog recordings are known for — this sound.
If you exclusively play modern repressings of vintage recordings, I can say without fear of contradiction that you have never heard this kind of sound on vinyl. Old records have it — not often, and certainly not always — but maybe one out of a hundred new records do, and those are some pretty long odds.
What the best sides of this wonderful Classical release have to offer is not hard to hear:
The biggest, most immediate staging in the largest acoustic space

The most Tubey Magic, without which you have almost nothing. CDs give you clean and clear. Only the best vintage vinyl pressings offer the kind of Tubey Magic that was on the tapes in 1970

Tight, note-like, rich, full-bodied bass, with the correct amount of weight down low

Natural tonality in the midrange — with all the instruments having the correct timbre

Transparency and resolution, critical to hearing into the three-dimensional studio space
No doubt there's more but we hope that should do for now. Playing the record is the only way to hear all of the qualities we discuss above, and playing the best pressings against a pile of other copies under rigorously controlled conditions is the only way to find a pressing that sounds as good as this one does.
What We're Listening For on Music For Strings Percussion And Celeste
Energy for starters. What could be more important than the life of the music?
The Big Sound comes next — wall to wall, lots of depth, huge space, three-dimensionality, all that sort of thing.
Then transient information — fast, clear, sharp attacks, not the smear and thickness so common to these LPs.
Tight punchy bass — which ties in with good transient information, also the issue of frequency extension further down.
Next: transparency — the quality that allows you to hear deep into the soundfield, showing you the space and air around all the instruments.
Extend the top and bottom and voila, you have The Real Thing — an honest to goodness Hot Stamper.
TRACK LISTING
Side One
Music For Strings Percussion And Celeste
1st Mov. Andante Tranquillo
2nd Mov. Allegro
3rd Mov. Adagio
4th Mov. Allegro Molto
Side Two
Divertimento For Strings
1st Mov. Allegro Non Troppo
2nd Mov. Molto Adagio
3rd Mov. Allegro Assai
Background
Music for Strings, Percussion and Celesta… is one of the best-known compositions by the Hungarian composer Béla Bartók. Commissioned by Paul Sacher to celebrate the tenth anniversary of the chamber orchestra Basler Kammerorchester, the score is dated September 7, 1936.
The work was premiered in Basel, Switzerland on January 21, 1937 by the chamber orchestra conducted by Sacher, and it was published the same year by Universal Edition.
As its title indicates, the piece is written for string instruments (violins, violas, cellos, double basses, and harp), percussion instruments (xylophone, snare drum, cymbals, tam-tam, bass drum, and timpani) and celesta. The ensemble also includes a piano, which may be classified as either a percussion or string instrument (the celesta player also plays piano during 4-hand passages). Bartók divides the strings into two groups which he directs should be placed antiphonally on opposite sides of the stage, and he makes use of antiphonal effects particularly in the second and fourth movements. -Wikipedia