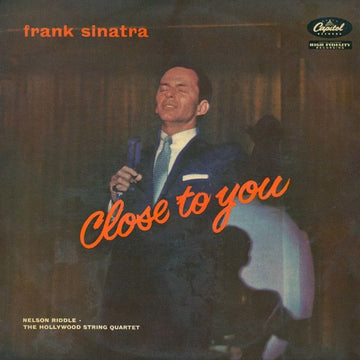 This early mono pressing of Sinatra's 1957 release boasts outstanding Double Plus (A++) sound or close to it throughout

Rich, sweet, and completely free of phony EQ, this record will put a living, breathing Sinatra standing right there between your speakers

Early pressings of Sinatra recordings from 1957 do not come much cleaner than this one in our experience

4 stars: "…one of Frank Sinatra's most gentle and intimate albums… has a delicate, lovely quality…"
*NOTE: On side two, the last one-eighth inch of Track 1, With Every Breath I Take, is lightly to moderately swooshy.
Superb Sinatra sound! His voice here is perfection.
This '50s LP has the kind of Tubey Magical Midrange that modern pressings cannot BEGIN to reproduce. Folks, that sound is gone and it sure isn't showing any sign of coming back.
Having done this for so long, we understand and appreciate that rich, full, solid, Tubey Magical sound is key to the presentation of this primarily vocal music. We rate these qualities higher than others we might be listening for (e.g., bass definition, soundstage, depth, etc.). The music is not so much about the details in the recording, but rather in trying to recreate a solid, palpable, real Frank Sinatra singing live in your listening room. The best copies have an uncanny way of doing just that.
If you exclusively play modern repressings of older recordings (this one is now 62+ years old), I can say without fear of contradiction that you have never heard this kind of sound on vinyl. Old records have it — not often, and certainly not always — but less than one out of 100 new records do, if our experience with the hundreds we've played can serve as a guide.
You will rarely see an early Capitol or Columbia Sinatra record on our site. They are becoming more and more difficult to find in audiophile playing condition, not to mention the fact that many of the copies we take the time to audition don't sound especially good to us in the first place.
What the best sides of Close to You have to offer is not hard to hear:
The biggest, most immediate staging in the largest acoustic space

The most Tubey Magic, without which you have almost nothing. CDs give you clean and clear. Only the best vintage vinyl pressings offer the kind of Tubey Magic that was on the tapes in 1957

Tight, note-like, rich, full-bodied bass, with the correct amount of weight down low

Natural tonality in the midrange — with all the instruments having the correct timbre

Transparency and resolution, critical to hearing into the three-dimensional studio space
No doubt there's more but we hope that should do for now. Playing the record is the only way to hear all of the qualities we discuss above, and playing the best pressings against a pile of other copies under rigorously controlled conditions is the only way to find a pressing that sounds as good as this one does.
Copies with rich lower mids and nice extension up top (to keep the strings from becoming shrill) did the best in our shootout, assuming they weren't veiled or smeary of course. So many things can go wrong on a record! We know, we heard them all.
We're glad to report this copy was doing more of what we wanted it to do than any other we played.
And we know a fair bit about the man's recordings at this point. As of today we've done commentaries for more than 21 different Sinatra shootouts, and that's not counting at least another ten titles that either bombed or were sold off years ago.
We've searched high and low for his records and played them by the score over the years. We plan to keep a good supply on to the site in the coming years so watch for new arrivals in the Vocal section (linked to the left).
What We're Listening For on Close to You
Energy for starters. What could be more important than the life of the music?
Then: presence and immediacy. The vocals aren't "back there" somewhere, lost in the mix. They're front and center where any recording engineer worth his salt would put them.
The Big Sound comes next — wall to wall, lots of depth, huge space, three-dimensionality, all that sort of thing.
Then transient information — fast, clear, sharp attacks, not the smear and thickness so common to these LPs.
Tight punchy bass — which ties in with good transient information, also the issue of frequency extension further down.
Next: transparency — the quality that allows you to hear deep into the soundfield, showing you the space and air around all the instruments.
Extend the top and bottom and voila, you have The Real Thing — an honest to goodness Hot Stamper.
TRACK LISTING
Side One
Close To You
P.S. I Love You
Love Locked Out
Everything Happens To Me
It's Easy To Remember
Don't Like Goodbyes
Side Two
With Every Breath I Take
Blame It On My Youth
It Could Happen To You
I've Had My Moments
I Couldn't Sleep A Wink Last Night
The End Of A Love Affair
AMG 4 Star Review
Close to You is one of Frank Sinatra's most gentle and intimate albums, and that is due in no small part to the Hollywood String Quartet, which forms the core of the album's instrumental support.
It also was one of the most difficult to record, taking eight months and five different sessions. Certainly, it is one of the most unusual and special of Sinatra's albums, featuring a subdued and detailed performances that accentuate both the romantic longing and understated humor of the numbers, which are mainly torch songs.
With the quartet's support, the album comes closer to sounding like a classical album, like a pop variation on chamber music. Where the intimacy of In the Wee Small Hours sounded confessional and heart-broken, Close to You has a delicate, lovely quality; it may not be seductive, but it is charming and romantic.