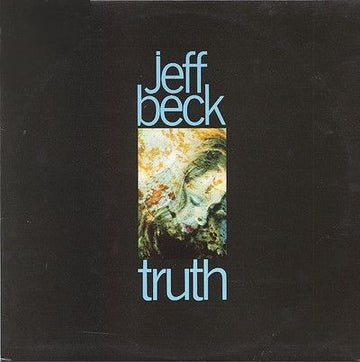 With a Triple Plus (A+++) shootout winning side one and a Nearly Triple Plus (A++ to A+++) side two, this copy is just about as good as it gets

Easily – and by a wide margin – the best sounding record Jeff Beck ever made – thanks Ken Scott! (And thank you, CBS, for the exceptionally quiet vinyl)

This pressing embodies the Big Rock Sound, the kind we go crazy for here at Better Records

Really fun music – it's a blast to hear Rod Stewart fronting such a heavy rock band

AMG 5 Stars "…almost as groundbreaking and influential a record as the first Beatles, Rolling Stones, or Who albums."
This is a SHOCKINGLY good sounding pressing of Truth, Beck's As-Heavy-As-I-Can-Make-It Rock debut, the kind of record that would define Classic Rock for the next forty plus years.
The soundstage is absolutely HUGE, while the presence and transparency of this copy go way beyond most pressings. Great rock and roll energy too of course — without that you have nothing on this album.
Note how spacious, big, full-bodied and DYNAMIC both sides are. That's why they're White Hot or close to it. I am pleased to report that the whomp factor on these sides was nothing short of MASSIVE. With tons of bass these sides have what it takes to make the music ROCK.
What amazing sides such as these have to offer is not hard to hear:
The biggest, most immediate staging in the largest acoustic space

The most Tubey Magic, without which you have almost nothing. CDs give you clean and clear. Only the best vintage vinyl pressings offer the kind of Tubey Magic that was on the tapes in 1968

Tight, note-like, rich, full-bodied bass, with the correct amount of weight down low

Natural tonality in the midrange — with all the instruments having the correct timbre

Transparency and resolution, critical to hearing into the three-dimensional studio space
No doubt there's more but we hope that should do for now. Playing the record is the only way to hear all of the qualities we discuss above, and playing the best pressings against a pile of other copies under rigorously controlled conditions is the only way to find a pressing that sounds as good as this one does.
One of the most surprising things we learned in our first big shootout from 2014 was how well recorded the album is. It's yet another triumph from one of our favorite engineers, Ken Scott.
In many ways it sounds like the first Zep album, and that's a good thing. The sound is a perfect fit for the music. In recent interviews Jeff Beck has been saying that Jimmy Page stole his idea for a Heavy Rock Band playing electrified blues. Based on the evidence found on the two sides of this very album I would say he has a point.
What We Listen For on Truth
Energy for starters. What could be more important than the life of the music?
Then: presence and immediacy. The vocals aren't "back there" somewhere, lost in the mix. They're front and center where any recording engineer worth his salt would put them.
The Big Sound comes next — wall to wall, lots of depth, huge space, three-dimensionality, all that sort of thing.
Then transient information — fast, clear, sharp attacks, not the smear and thickness so common to these LPs.
Tight punchy bass — which ties in with good transient information, also the issue of frequency extension further down.
Next: transparency — the quality that allows you to hear deep into the soundfield, showing you the space and air around all the instruments.
Extend the top and bottom and voila, you have The Real Thing — an honest to goodness Hot Stamper.
Ken Scott, Engineer Extraordinaire
In 2008 I had the opportunity to hear Ken Scott speak the night before at an AES meeting here in Los Angeles. This is the man who recorded some of the All Time Great Rock Albums, the likes of Ziggy Stardust, The White Album, Honky Chateau, All Things Must Pass, Son Of Schmilsson, America's debut, and this very powerhouse of Heavy Blues Rock.
This is one seriously talented guy! (I won't bore you by trying to recap his talk, but if it ever comes out on youtube or the like, you should definitely check it out. The Behind-The-Scenes discussion of these artists and their recordings was a thrill for someone like me who has been playing and enjoying the hell out of most of his albums for more than thirty years.)
TRACK LISTING
Side One
Shapes of Things 
Let Me Love You 
Morning Dew 
You Shook Me
Ol' Man River
Side Two
Greensleeves 
Rock My Plimsoul
Beck's Bolero 
Blues Deluxe 
I Ain't Superstitious
AMG 5 Star Review
Truth was almost as groundbreaking and influential a record as the first Beatles, Rolling Stones, or Who albums. Its attributes weren't all new — Cream and Jimi Hendrix had been moving in similar directions — but the combination was: the wailing, heart-stoppingly dramatic vocalizing by Rod Stewart, the thunderous rhythm section of Ron Wood's bass and Mickey Waller's drums, and Beck's blistering lead guitar, which sounds like his amp is turned up to 13 and ready to short out.