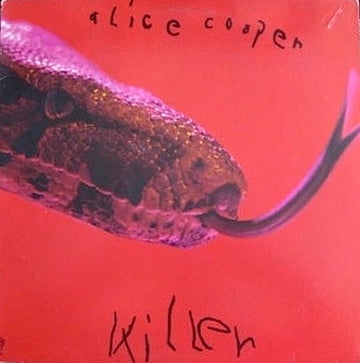 Cooper's fourth studio album finally arrives on the site with Shootout Winning Triple Plus (A+++) sound on side one mated to an outstanding Double Plus (A++) sound on side one

Bigger and bolder, with more bass, more energy, and more of the "you-are-there-immediacy" of ANALOG that sets the best vintage pressings apart from reissues, CDs, and whatever else you care to name

4 1/2 stars: "With Killer, they became one of the world's top rock bands and concert attractions; it rewarded them as being among the most notorious and misunderstood entertainers, thoroughly despised by grownups."
This vintage green label Warner Bros. pressing has the kind of Tubey Magical Midrange that modern records can barely BEGIN to reproduce. Folks, that sound is gone and it sure isn't showing signs of coming back. If you love hearing INTO a recording, actually being able to "see" the performers, and feeling as if you are sitting in the studio with the band, this is the record for you. It's what vintage all analog recordings are known for — this sound.
If you exclusively play modern repressings of vintage recordings, I can say without fear of contradiction that you have never heard this kind of sound on vinyl. Old records have it — not often, and certainly not always — but maybe one out of a hundred new records do, and those are some pretty long odds.
What Amazing Sides Such as These Have to Offer Is Not Hard to Hear
The biggest, most immediate staging in the largest acoustic space

The most Tubey Magic, without which you have almost nothing. CDs give you clean and clear. Only the best vintage vinyl pressings offer the kind of Tubey Magic that was on the tapes in 1971

Tight, note-like, rich, full-bodied bass, with the correct amount of weight down low

Natural tonality in the midrange — with all the instruments having the correct timbre

Transparency and resolution, critical to hearing into the three-dimensional studio space
No doubt there's more but we hope that should do for now. Playing the record is the only way to hear all of the qualities we discuss above, and playing the best pressings against a pile of other copies under rigorously controlled conditions is the only way to find a pressing that sounds as good as this one does.
Size
One of the qualities that we don't talk about on the site nearly enough is the SIZE of the record's presentation. Some copies of the album just sound small — they don't extend all the way to the outside edges of the speakers, and they don't seem to take up all the space from the floor to the ceiling. In addition, the sound can often be recessed, with a lack of presence and immediacy in the center.
Other copies — my notes for these copies often read "BIG and BOLD" — create a huge soundfield, with the music positively jumping out of the speakers. They're not brighter, they're not more aggressive, they're not hyped-up in any way, they're just bigger and clearer.
And most of the time those very special pressings just plain rock harder. When you hear a copy that does all that, it's an entirely different listening experience.
What We're Listening For on Killer
Energy for starters. What could be more important than the life of the music?
Then: presence and immediacy. The vocals aren't "back there" somewhere, lost in the mix. They're front and center where any recording engineer worth his salt would put them.
The Big Sound comes next — wall to wall, lots of depth, huge space, three-dimensionality, all that sort of thing.
Then transient information — fast, clear, sharp attacks, not the smear and thickness so common to these LPs.
Tight punchy bass — which ties in with good transient information, also the issue of frequency extension further down.
Next: transparency — the quality that allows you to hear deep into the soundfield, showing you the space and air around all the instruments.
Extend the top and bottom and voila, you have The Real Thing — an honest to goodness Hot Stamper.
TRACK LISTING
Side One
Under My Wheels
Be My Lover
Halo Of Flies
Desperado
Side Two
You Drive Me Nervous
Yeah, Yeah, Yeah
Dead Babies
Killer
AMG 4 1/2 Star Review
Alice Cooper wasted little time following up the breakthrough success of Love It to Death with another album released the same year, Killer. Again, producer Bob Ezrin was on board and helps the group solidify their heavy rock (yet wide-ranging) style even further.
The band's stage show dealt with the macabre, and such disturbing tracks as "Dead Babies" and the title track fit in perfectly. Other songs were even more exceptional, such as the perennial barnstorming concert standard "Under My Wheels," the melodic yet gritty "Be My Lover," and the tribute to their fallen friend Jim Morrison, "Desperado." The long and winding "Halo of Flies" correctly hinted that the band would be tackling more complex song structures on future albums, while "You Drive Me Nervous" and "Yeah, Yeah, Yeah" showed that Alice Cooper hadn't completely abandoned their early garage rock direction.
With Killer, they became one of the world's top rock bands and concert attractions; it rewarded them as being among the most notorious and misunderstood entertainers, thoroughly despised by grownups.