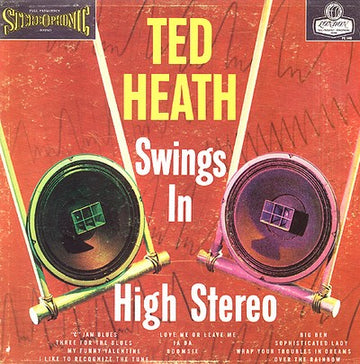 Shootout Winning Triple Plus (A+++) DEMO DISC SOUND from the first note to the last; the best sound we heard for this album in our shootout all day

Kingsway Hall, Wilkinson and the Decca Tree add up to Audiophile Quality Big Band sound, on this copy anyway

Heath and his group play with all the energy and verve essential to this joyful Big Band music – he really does swing in high stereo

We consider Ted Heath's early London recordings to be some of the best big band ever recorded
This album has DEMO DISC SOUND like you will not believe. Just listen to Heath's arrangement of Big Ben, the second track on side two, for Audiophile Quality Big Band sound the likes of which you may have never heard.
What amazing sides such as these have to offer is not hard to hear:
The biggest, most immediate staging in the largest acoustic space

The most Tubey Magic, without which you have almost nothing. CDs give you clean and clear. Only the best vintage vinyl pressings offer the kind of Tubey Magic that was on the tapes in 1958

Tight, note-like, rich, full-bodied bass, with the correct amount of weight down low

Natural tonality in the midrange — with all the instruments having the correct timbre

Transparency and resolution, critical to hearing into the three-dimensional studio space
No doubt there's more but we hope that should do for now. Playing the record is the only way to hear all of the qualities we discuss above, and playing the best pressings against a pile of other copies under rigorously controlled conditions is the only way to find a pressing that sounds as good as this one does.
The Sound
Both sides are smooth, dynamic, open and clear with all of the richness and weight that makes the music seem bigger and more energetic. When the band gets going the sound is really jumpin'!
The brass is never "blary" the way it can be on so many Big Band or Dance Band records from the '50s and '60s. (Basie's Roulette records tend to have a bad case of blary brass as a rule.)
Sharp transients and mostly correct tonality and timbres, powerful brass — practically everything you want in a Top Quality Hot Stamper is here!
What We're Listening For on Ted Heath Swings in High Stereo
Energy for starters. What could be more important than the life of the music?
The Big Sound comes next — wall to wall, lots of depth, huge space, three-dimensionality, all that sort of thing.
Then transient information — fast, clear, sharp attacks, not the smear and thickness so common to these LPs.
Tight punchy bass — which ties in with good transient information, also the issue of frequency extension further down.
Next: transparency — the quality that allows you to hear deep into the soundfield, showing you the space and air around all the instruments.
Extend the top and bottom and voila, you have The Real Thing — an honest to goodness Hot Stamper.
Swing Is King
Many consider Ted Heath's early London recordings to be some of the best big band ever recorded. (We had a copy of Heath's Shall We Dance not long ago that had some of the biggest, richest, most powerful sound I have ever heard. Watch for Hot Stampers coming to the site soon.) The American big bands rarely got the kind of sound that the Decca engineers were able to achieve on records like this. For one thing they didn't have Kingsway Hall, Kenneth Wilkinson or the Decca "Tree" microphone setup.
Unlike some of the American big band leaders who were well past their prime by the advent of the two-channel era, Heath is able to play with all the energy and verve required for this music. He really does swing in high stereo.
Ted Heath was a giant in the world of Big Band and everybody who was anybody knew it. (Click the Ted Heath tab above to read more.)
Count Basie:
You've got a band… Ted Heath… He scares me to death… When they sent those first Heath records over to the States they really knocked everybody out… For me I think Ted is the best precision band and so very entertaining…I mean so far as I'm concerned I think Ted is the most.
Stan Kenton:
Your music has become such an institution it seems that we have always had it… I do know that without you, big band music and jazz would not be as it is today… Your taste and integrity in guiding your arrangers, composers and musicians has always been of the highest order… You've done more than your share in exposing the best grade of music to those hungry for it all over the world…
Woody Herman:
I saw the band and was incredibly impressed……one of the cleanest and swingiest of the big bands of the era… Always rated at the top of the list… You would hear more Ted Heath records than ours, Basie or Ellington…
Tubey Magic
This copy of Swings in High Stereo has a lot in common with the other Decca and Living Stereo titles we've listed over the years, albums by the likes of Henry Mancini, Esquivel, Dick Schory, Edmundo Ros, Prez Prado and a handful of others. Talk about making your speakers disappear, these records will do it!
An album like this is all about Tubey Magical Stereoscopic presentation. For us audiophiles both the sound and the music here are enchanting. If you're looking to demonstrate just how good 1958 All Tube Analog sound can be, this killer copy may be just the record for you!
This copy is super spacious, sweet and positively dripping with ambience. Talk about Tubey Magic, the liquidity of the sound here is positively uncanny. This is vintage analog at its best, so full-bodied and relaxed you'll wonder how it ever came to be that anyone seriously contemplated trying to improve it.
This IS the sound of Tubey Magic. No recordings will ever be made like this again, and no CD will ever capture what is in the grooves of this record. Someday there may well be a CD of this album, but those of us in possession of a working turntable could care less.
By the way, the "audience" for this recording is dubbed in, a common practice back in those days. It's not a problem; in its own way it kind of works.
TRACK LISTING
Side One
"C" Jam Blues
Three For The Blues
My Funny Valentine
I Like To Recognize The Tune
Love Me Or Leave Me
Ja-Da
Side Two
Boomsie
Big Ben
Sophisticated Lady
Wrap Your Troubles In Dreams
Over The Rainbow