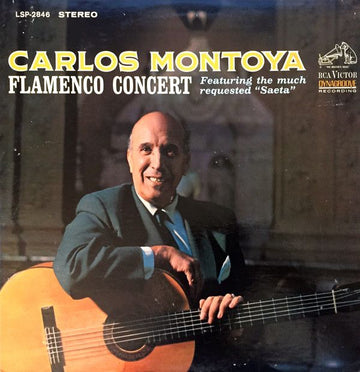 KILLER sound throughout with both sides earning Triple Plus (A+++) grades or very close to them

The overall sound here is incredibly big, rich and Tubey Magical with tons of space and plenty of energy; Montoya's guitar is really jumping out of the speakers!

"Montoya is credited with having transformed flamenco guitar music into a separate music style, beyond being a traditional dance accompaniment. He adapted flamenco to other genres of music to create his own recognizable style, becoming an international star." – Wikipedia
This vintage RCA pressing has the kind of Tubey Magical Midrange that modern records can barely BEGIN to reproduce. Folks, that sound is gone and it sure isn't showing signs of coming back. If you love hearing INTO a recording, actually being able to "see" the performer, and feeling as if you are sitting in the concert hall, this is the record for you. It's what vintage all analog recordings are known for — this sound.
If you exclusively play modern repressings of vintage recordings, I can say without fear of contradiction that you have never heard this kind of sound on vinyl. Old records have it — not often, and certainly not always — but maybe one out of a hundred new records do, and those are some pretty long odds.
What is lost in these newly remastered recordings? Lots of things, but the most obvious and bothersome is TRANSPARENCY. And the loss of transparency in a live concert hall recording is practically the kiss of death.
What amazing sides such as these have to offer is not hard to hear:
The biggest, most immediate staging in the largest acoustic space

The most Tubey Magic, without which you have almost nothing. CDs give you clean and clear. Only the best vintage vinyl pressings offer the kind of Tubey Magic that was on the tapes in 1964

Natural tonality in the midrange — with the guitar having the correct timbre

Transparency and resolution, critical to hearing into the three-dimensional space of the concert hall
No doubt there's more but we hope that should do for now. Playing the record is the only way to hear all of the qualities we discuss above, and playing the best pressings against a pile of other copies under rigorously controlled conditions is the only way to find a pressing that sounds as good as this one does.
TRACK LISTING
Side One
Alegrias Flamencas
Farruca
Seguiriya
Corralera Y Bolera
Jota
Side Two
Saeta
Buleria
Ecos De Sierra Nevada
Petenera
Blues In The Night