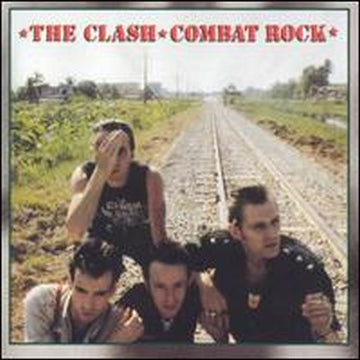 An insanely good sounding copy with Triple Plus (A+++) sound from start to finish – exceptionally quiet vinyl too

Both the two big jammers are on this killer side one: Should I Stay or Should I Go and Rock the Casbah – you've never heard them sound like this!

Glyn Johns produced and mixed Combat Rock, so its sonic credentials are certainly in order

If you're a fan of meaty bass, grungy guitars and punchy drums, this is the copy for you

…its finest moments — "Should I Stay or Should I Go," "Rock the Casbah," "Straight to Hell" — illustrate why the Clash were able to reach a larger audience than ever before with the record."
NOTE: There is a mark on track two that looks serious but in actuality can only be heard a few times very lightly during the second half of the track. For the most part it is completely obscured by the music.
If you can tolerate this one mark you are in for some amazing Clash music and sound. If for any reason you are not happy with the sound or condition of the album we are of course happy to take it back for a full refund, including the domestic return postage.
Full and natural, energetic and high-res, no other copy came close. A stunning copy, absolutely as good as it gets for this punk classic.
Most of the other copies we played failed in one of two ways: if they weren't too bright, they were dead as a doornail. But this copy knocked them all out with correct tonal balance and tons of energy.
What outstanding Combat Rock sides have to offer is not hard to hear:
Tight, note-like, rich, full-bodied bass, with the correct amount of weight down low

Natural tonality in the midrange — with all the instruments having the correct timbre

Transparency and resolution, critical to hearing into the three-dimensional studio space

The most Tubey Magic, without which you have almost nothing. CDs give you clean and clear. Only the best vintage vinyl pressings offer the kind of Tubey Magic that was on the tapes in 1982

The biggest, most immediate staging in the largest acoustic space
No doubt there's more but we hope that should do for now. Playing the record is the only way to hear all of the qualities we discuss above, and playing the best pressings against a pile of other copies under rigorously controlled conditions is the only way to find a pressing that sounds as good as this one does.
This vintage Epic pressing has the kind of Tubey Magical Midrange that modern records can barely BEGIN to reproduce. Folks, that sound is gone and it sure isn't showing signs of coming back. If you love hearing INTO a recording, actually being able to "see" the performers, and feeling as if you are sitting in the studio with the band, this is the record for you. It's what vintage all analog recordings are known for — this sound.
If you exclusively play modern repressings of vintage recordings, I can say without fear of contradiction that you have never heard this kind of sound on vinyl. Old records have it — not often, and certainly not always — but maybe one out of a hundred new records do, and those are some pretty long odds.
What We Listen For on Combat Rock
Extend the top and bottom and voila, you have The Real Thing — an honest to goodness Hot Stamper.
Energy for starters. What could be more important than the life of the music?
Then: presence and immediacy. The vocals aren't "back there" somewhere, lost in the mix. They're front and center where any recording engineer worth his salt would put them.
The Big Sound comes next — wall to wall, lots of depth, huge space, three-dimensionality, all that sort of thing.
Then transient information — fast, clear, sharp attacks, not the smear and thickness so common to these LPs.
Tight punchy bass — which ties in with good transient information, also the issue of frequency extension further down.
Next: transparency — the quality that allows you to hear deep into the soundfield, showing you the space and air around all the instruments.
TRACK LISTING
Side One
Know Your Rights
Car Jamming
Should I Stay or Should I Go
Rock the Casbah
Red Angel Dragnet
Straight to Hell
Side Two
Overpowered by Funk
Atom Tan
Sean Flynn
Ghetto Defendant
Inoculated City
Death Is a Star
AMG Review
On the surface of things, Combat Rock appears to be a retreat from the sprawling stylistic explorations of London Calling and Sandinista! The pounding arena rock of "Should I Stay or Should I Go" makes the Clash sound like an arena rock band, and much of the album boasts a muscular, heavy sound courtesy of producer Glyn Johns. But things aren't quite that simple. Combat Rock contains heavy flirtations with rap, funk, and reggae, and it even has a cameo by poet Allen Ginsberg — if this album is, as it has often been claimed, the Clash's sellout effort, it's a very strange way to sell out.
Even with the infectious, dance-inflected new wave pop of "Rock the Casbah" leading the way, there aren't many overt attempts at crossover success, mainly because the group is tearing in two separate directions. Mick Jones wants the Clash to inherit the Who's righteous arena rock stance, and Joe Strummer wants to forge ahead into black music … its finest moments — "Should I Stay or Should I Go," "Rock the Casbah," "Straight to Hell" — illustrate why the Clash were able to reach a larger audience than ever before with the record.